Product News: Computer Hardware & Peripherals
Tablet-Based Scanner accurately measures 3D spaces.
Press Release Summary: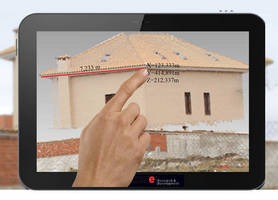 July 2, 2014 - Intended for architecture and civil engineering jobs, EyesMap holds 2 rear 13 MP Sony cameras, depth sensor, and GPS system and can measure coordinates, surfaces, and volumes of objects up to distance of 70–80 m. Solution comes in tablet with 4th generation Intel® i7 processor and 16 GB RAM, and can also scan photogrammetric pictures with up to 4 million dots in ~2 min. System uses computational vision techniques blended with photogrammetry, precision sensor fine tuning, and visual odometer.
Original Press Release
Tablet Developed to 3D Scan and Measure Accurately
Press release date: June 23, 2014
-- The tablet "EyesMap" will be available in 2015.
-- The system join capabilities of surveyors instruments and 3d scanners in a portable device.

E-Capture R&D, a technology-based company, introduces a new 3D accurate measuring instrument, embedded in a tablet. The Spanish enterprise announces that it's product will be out for sale at the beginning of 2015, intend to revolutionize the world of measuring with a new generation of portable, easy to use and highly accurate instruments, optimal for most of architecture and civil engineering jobs.

The Tablet "EyesMap" holds two rear Sony cameras of 13 megapixels each, a depth sensor and a GPS system amongst others. Such a system is able to measure coordinates, surfaces and volumes of all types of objects up to a distance of 70 to 80 m. To the same extent EyesMap can scan advanced photogrammetric pictures with up to 4 million dots in almost 2 minutes. These photographic color scans will allow us to create 3D models of all kinds of objects of different sizes: from little insects to big buildings or landscapes.

EyesMap has an outstanding capacity for modeling 3D indoors and outdoors, as well as measuring 3D elements and people or animals moving.

The tablet is ideal for measuring works and building inspections. Facades, structures, indoors and 3D Scans can be done by engineers allowing them to dock EyesMap on a topographic tripod in order to position the instrument in a local coordinates system.

EyesMap comes in a tablet with Intel's 4th generation i7 processor and 16 GB of RAM which gives it an extraordinary performance.

The system uses computational vision techniques blended with photogrammetry, precision sensor fine tuning, visual odometer and other advanced images measuring techniques.

The EyesMap project is developed under Windows and it will have a space for developers who wish to realize their own applications for any speciality; this instrument is intended to be very useful for architects, archaeologists, civil engineers, topographers, industrial engineers, as well as all other professionals in arts, medicine video games, security, criminology, etc.

Video: https://www.youtube.com/watch?v=Tpvy45rtgqA

Company webpage: www.ecapture.es

More info about the Company: http://www.ecapture.es/aboutus.html

Product webpage: http://www.ecapture.es/eyesmap.html

Contact Information:
Pedro Ortiz Coder (Technical Manager)
pedro@ecapture.es
Phone: +34 924 48 54 47    
Mobile Phone: +34-666278798