Product News: Computer Hardware & Peripherals, Robotics
Surveillance System improves public transportation security.
Press Release Summary: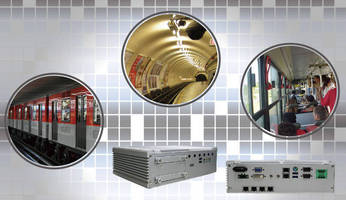 March 26, 2014 - Able to be used for surveillance in buses, trucks, and other vehicles, ARTS-4770 in-vehicle system features 4-PoE module, Intel® 3rd generation Core™ i7 processor, and 1–4 IP cameras. All video images can be displayed on screen beside driver and recorded into removable SSD. Wi-Fi and USB connectivity also enable data transference, while GPS with 3G/4G telecommunication allow for location tracking. Other features include smart power ignition and over-voltage power protection.
Original Press Release
Improving Security Level with ARBOR In-Vehicle Surveillance Solution
Press release date: March 21, 2014
Security issue is always important to every country or society around the world, so it is common to find surveillance system everywhere, such as in a building, street, even in a transportation vehicle. Public transportation is a significant element of traffic in modern cities. Most people move around cities by public transportation, and many undesirable situations such as bullying, robbery, theft, fighting etc, even terrorism may happen inside the vehicles. For public security, it is necessary to have the surveillance devices in the transportation vehicles to prevent those unexpected issues. Therefore, ARBOR Technology announces ARTS-4770, the in-vehicle surveillance solution.

ARBOR ARTS-4770 is designed as a vehicle PC for surveillance, which can be used in buses, trucks, and other vehicles. With 4-PoE module, high-performance Intel 3rd generation Core i7 processor and 1~4 IP cameras, ARTS-4770 has the capability to monitor whole circumstance in the vehicle. All the video images can be displayed on the screen beside the driver and be recorded into solid storage disk in ARTS-4770, which offers higher protection for passengers' safety. It is easy to track when some undesirable situation occurs

As a vehicle PC, all the specifications of ARTS-4770 are fit to be used in vehicle, such as smart power ignition function to protect ARTS-4770 itself, GPS with 3G/4G telecommunication for location tracking, WiFi/USB/removable SSD for data transference, rigid standard for vibration and shock, compact size for all kinds of vehicles (such as ambulance, bus, and truck), over-voltage power protection…etc. With 4-port PoE module, it doesn't need to have a PoE switch in vehicle which can save the cost of PoE device and wiring. Furthermore, with Intel 3rd generation Core i7 processor, the ARTS-4770 is capable to play 4-channel video image fluently on LCD display from high resolution IP cameras while recording all images simultaneously, which makes ARTS-4770 an excellent solution for in-vehicle surveillance.

About ARBOR

ARBOR Technology Corp., was founded in 1993, is a leading IPC supplier of embedded computing products and services. With more than 20 years of experience in providing customer-driven, high performance, and industrial strength computing solutions in various industries, ARBOR strives to provide a complete solution from board to system in healthcare, transportation, industrial automation, mobile computing, digital signage, POS & Kiosk and intelligent applications. ARBOR is ISO-9001, ISO-13485 and ISO-14001-certifiied and commits to deliver high quality products with international standard and well-defined production process. More information about Arbor is available at www.arbor.com.tw

Media Contact: marcom@arbor.com.tw
Inquiry Contact: info@arbor.com.tw