Product News: Chemical Processing & Waste Management, Materials & Material Processing
Sterilizable Extruded Resin is suited for medical devices.
Press Release Summary: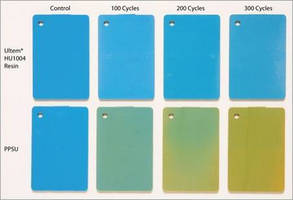 April 3, 2014 - Extruded Ultem® HU1004 accommodates medical device manufacturers interested in broadening sterilization capabilities of their products. Healthcare grade of resin from Sabic Innovative Plastics, Ultem HU1004, exhibits resistance to low temperature hydrogen peroxide gas plasma sterilization techniques (Sterrad® sterilization). Properties lend to performance as well as aesthetics, namely ductility and color stability.
Original Press Release
Ensinger Broadens Product Line of Sterilzable Medical Materials
Press release date: April 1, 2014
One of the chief concerns developers of medical devices have these days is how their products will be able to stand up to the rigors of the various types of sterilization that are employed. Recently, Ensinger, a pioneer in developing engineering plastic stock shapes for the medical market since the mid-90's, began successful extrusion trials with a relatively new healthcare grade of resin from Sabic Innovative Plastics, Ultem® HU1004. Tougher than other standard grades of Ultem, the HU1004 grade distinguishes itself by showing excellent resistance to new low temperature hydrogen peroxide gas plasma sterilization techniques, popularly known as Sterrad® sterilization. Independent third party testing conducted on behalf of Sabic Innovative Plastics revealed significant performance and asthetic advantages, particularly in ductility and color stability, over competitive materials such as PPSU.

"Ensinger has successfully extruded Ultem HU1004, and is actively working with medical device manufacturers that are interested in broadening the sterilization capabilities of their products," said Bruce Dickinson, Marketing Manager for Ensinger stock shapes in the U.S. "Putting these types of new products in the hands of design engineers is just one of the ways that Ensinger continually strives to add value to the users of our materials."

Since 1986, Ensinger has continued to push the envelope of engineering plastics innovation to provide customers with the very best products. Ensinger uses state-of-the-art manufacturing process technology and unmatched technical industry and application expertise to make it easy for partners to design and develop new products from high performance plastics.

For more information on extruded shapes made from Ultem HU1004, call 800-243-3221, or e-mail sales@ensinger-ind.com.

Ultem is registered trademark of Sabic Innovative Plastics
Sterrad is a registered trademark of Advanced Sterilization Products