Product News: Display & Presentation Equipment
Stereoscopic Video Projector provides full HD resolution.
Press Release Summary: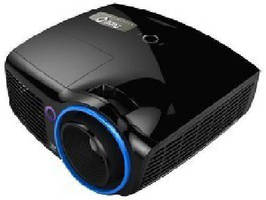 August 27, 2014 - Utilizing Texas Instruments DLP® Dark Chip 3 technology, DepthQ® HDs3D2 delivers 2,500 ANSI lumens with flicker-free 120 Hz 720P 3D and 120/144 Hz 1080P 3D resolution. Unit incorporates 3D Triple Flash at 144 Hz for 24 fps input. Weighing just 7 lb, portable projector features 10,000:1 contrast and synchronization, HDMI 1.4 connectivity, and 3D 6-pin DIN sync port. Device supports Blu-ray, 3D broadcasting, video games, and NVIDIA 3DTV PC connectivity.
Original Press Release
Lightspeed Design Announces New 3D Projector
Press release date: August 21, 2014
DepthQ® HDs3D2, portable high definition stereoscopic video projector for professionals.

SEATTLE, – Lightspeed Design Inc., a worldwide leader in stereoscopic technology, today announced a new addition to its line of patented DepthQ® Projectors that deliver amazing 3D, the DepthQ® HDs3D2.

In 2005, Lightspeed Design invented the world's first portable 3D single-chip projector: the DepthQ 3D Projector. It was the culmination of years of 3D knowledge and experience a projector designed by 3D professionals for 3D professionals.

In 2011 and 2013 we received our first two US patents for this unique 3D technology. DepthQ® is the only single-chip 3D projector on the market that is currently authorized to use our patented 3D system and method. Learn more (www.depthq.com/ldlicense.html)

Every new generation of DepthQ® 3D Projectors builds on our original design and the DepthQ® HDs3D2 is our best model yet.

New to the HDs3D2 is HDMI 1.4 connectivity, full HD resolution 1080P 2D and 3D (for 24 or 30 image-pairs/sec input), plus superior contrast, synchronization and crosstalk to deliver the highest-quality, most satisfying and hassle-free 3D experience possible right out of the box.

Professional: Outstanding 10,000:1 Contrast and Synchronization

Digital: Digital HDMI 1.4 or analog VGA input

Bright: 2500 ANSI Lumens

Quality: Flicker-free, 120Hz 720P 3D and 120 & 144Hz 1080P 3D;Supports HDMI, Blu-ray, 3D broadcasting, video games and NVIDIA 3DTV PC connectivity; Uses Texas Instruments DLP® Dark Chip 3 technology; Incorporates 3D Triple Flash at 144Hz for 24fps input; Includes a 3D 6-pin DIN sync port

Portable: Small & only 7 pounds, fits in the overhead bin and takes less than 5 minutes to set up

Versatile -Work live in 3D-enabled applications; quality control 3D film or video game development; bring 3D movies and games into your home

Availability: Now shipping! Lightspeed Design is the exclusive worldwide distributor of the DepthQ® HDs3D2 Projector. To purchase or for more information please use our Contact Form: (http://www.depthq.com/projectorcontact.html) or call +1 (206) 784-1385.

DepthQ® = Great 3D!

The DepthQ® brand assures you of unsurpassed visual comfort and quality.

DepthQ®/ Lightspeed Design, Inc. has been a worldwide leader in stereoscopic 3D for twenty-one years, developing landmark hardware and software technologies such as the DepthQ® Polarization Modulator for 3D digital cinema (over 1500 screens), the DepthQ® stereoscopic projector, and the DepthQ® family of 3D media software.

DepthQ® is a respected stereoscopic technology brand trusted by the most discerning clientele, and assisting in a wide range of disciplines - from 3D digital cinema...to screening rooms...to pharmaceutical visualization...to surgical support systems...to 3D film production.

Lightspeed is headquartered in Bellevue, Washington, USA. For more information, visit us at lightspeeddesign.com or contact the company directly at 425-637-2818.

Lightspeed Design, Inc.
Chris Ward
1611 116th Ave NE
Suite 112
Bellevue, WA 98004
Sales: 206.784.1385
www.twitter.com/DepthQ3D