Software automatically removes noise from 3D scans.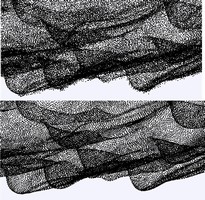 Software automatically removes noise from 3D scans.
February 7, 2008 - Used in scanning of parts with reflective surfaces, Laser Design Point Cloud Denoiser(TM) (3D) automates noise reduction process for 3D data obtained from any scanner using industry-standard file formats. It automatically removes noisy data after scan is complete, leaving actual surface data intact via proprietary denoising algorithms. Solution handles planar and arbitrarily curved surfaces with equal efficacy and reduces/eliminates need to spray surface treatments.

(Archive News Story - Products mentioned in this Archive News Story may or may not be available from the manufacturer.)
Original Press release

Laser Design, Inc. (LDI)
9401 James Avenue South
Minneapolis`, MN, 55431
USA



Laser Design's New Denoising Software Reduces or Eliminates Need to Spray Reflective Parts for 3D Scanning


Automated Noise Filtering Program Revolutionizes 3D Scanning Process

(MINNEAPOLIS, MN; January 31, 2008) - Laser Design Inc., the leading supplier of 3D laser scanners for more than 20 years, announced the upcoming release of its Laser Design Point Cloud Denoiser(TM) (3D) Software, a revolutionary step forward in the scanning process of parts with reflective surfaces. The DeNoiser software greatly reduces or eliminates the need to spray surface treatments, powders, paints, or finishes on parts with reflective surfaces because the noisy data is automatically removed by the Point Cloud Denoiser software after the scanning is completed. The actual surface data is left intact by the software's proprietary denoising algorithms.

Point Cloud DeNoiser automatically removes both long-range noise, i.e., outliers, and short-range noise. The software identifies and deletes discrete and clustered outliers without moving any of the input data points. The software's algorithm also excels at removing structured point data usually associated with reflections. The DeNoiser saves the most time of any data processing product on the market for high density scanning applications. The amount of time spent cleaning up scan data to eliminate excessive or minute noise in scan files can be more than 50 percent of the time spent on the entire data processing project. The Point Cloud DeNoiser automates the whole noise reduction process for 3D data from any scanner that uses industry-standard file formats. No additional operator training is necessary.

Noisy data removal is crucial for industries that use scanning technologies for their reverse engineering, quality inspection, and object recognition applications such as automotive, aerospace, electronics, telecommunications, medical device, consumer appliance, and tooling manufacturing. In addition, the DeNoiser can eliminate the interactive operator time needed for data editing on any 3D scan data files including huge terrestrial laser scanning projects such as a building, power plant interior, or land contours. By definition, large-scale terrestrial scanning in less than optimum conditions results in scans with the most noise and errant flier data points.

By eliminating the need for surface sprays, the reliability of laser scanning results for inspection applications is heightened since parts will no longer be deformed by the application of a messy surface spray. Many more applications for scanning parts will be viable because there is no part contamination: for example medical, electronics components / circuit boards, clean room parts, machined metal surfaces, polished parts and many high finish, reflective materials that previously could not be scanned without surface sprays. Some extremely reflective surfaces may still need surface preparation.

The Point Cloud DeNoiser outperforms the imbedded data processing features of the market leaders in 3D digitized data processing software for reverse engineering, inspection, and analysis applications. In comparison tests, the competing software programs completely failed to automatically denoise many measured data models while the Point Cloud DeNoiser provided impressive outlier removal results without user interaction. The competing software often requires manual point selection and deletion to denoise a point cloud, which is a tedious, time consuming task. Point Cloud DeNoiser has been shown to be up to ten times faster in removing noisy data than manual methods to obtain comparable results. Laser Design's software handles both planar and arbitrarily curved surfaces with equivalent efficacy.

Laser Design is offering the Point Cloud DeNoiser to customers for $4995, including updates and support.

Laser Design, Inc. has been the leading supplier of ultra-precise, 3D laser scanning systems and services for more than 20 years. Used for capturing the 3D shape of objects with complex geometries and free-form surfaces, Laser Design's Surveyor line of automated and portable scanning systems are ideal for 3D scanning applications involving inspection and reverse engineering of complex shaped plastic and metal parts. The company's patented laser line-probe technology dramatically reduces scanning time by collecting data substantially faster and more accurately than conventional metrology technologies.

Headquartered in Minneapolis, the company also has Regional Technical Services and Support Centers in Seattle and Detroit, and distributors throughout Europe, Asia, and Mexico. Laser Design also operates GKS Inspection Services (www.GKS.com), an in-house service bureau division offering complete 3D scanning, reverse engineering, and dimensional inspection services.

For further information, contact C. Martin Schuster, by phone (952-252-3402, fax (952-884-9653), via email to laser@laserdesign.com or visit Laser Design's web site at http://www.laserdesign.com.

---


Start Your

Free


Subscription to


Industry Market Trends

.