Smart Manometers offer NIST traceable accuracy to ±0.025% FS.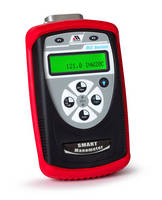 Smart Manometers offer NIST traceable accuracy to ±0.025% FS.
September 8, 2010 - Operating in temperatures from -4 to +122ºF, M200 Smart Manometers are available with 0-10.000 in. H2O range, 4 gauge pressure ranges up to 3,000 psig, and 2 absolute pressure ranges up to 1,000 psia. Products are also available in 8 compound pressure ranges to measure ±15 through -15 to +3,000 psig. They include backlight, alkaline battery power, and NIST traceable certificate of calibration with data, timed leak test, record mode, damping, and minimum/maximum value capture.

(Archive News Story - Products mentioned in this Archive News Story may or may not be available from the manufacturer.)
Original Press release

Meriam Process Technologies
10920 Madison Ave.
Cleveland, OH, 44102
USA



Meriam Process Technologies Announces Expanded Offering in Popular M200 Smart Manometer Line


Cleveland, OH - Meriam's M200 Smart Manometer line just got better with the addition of several pressure ranges and a complete new offering of compound pressure ranges! The M200 continues to offer NIST traceable accuracy to ±0.025% FS including all affects of linearity, repeatability, hysteresis and temperature over the operating range of -4º to +122ºF (-20º to +50ºC). Recent improvements have added two differential pressure ranges (including a new 0 - 10.000" H2O range), four gauge pressure ranges (now up to 3000 PSIG) and two absolute pressure ranges (now to 1000 PSIA). Meriam has also added eight compound pressure ranges to accurately measure ±15 PSIG through -15 to +3000 PSIG. The update increases the number of M200 sensor types/ranges offered from 9 to 24, offering better coverage of customer needs.

Standard features of the M200 include back light, alkaline battery power, NIST traceable certificate of calibration complete with data, timed leak test, record mode, damping, minimum/maximum value capture and field re-calibration support. Popular options include Intrinsic Safety (ATEX, cULus), carrying case and carrying case with pressure or vacuum pumps.

For wet / wet differential Meriam offers the M200-DI line with similar performance in five ranges covering 0 - 500 PSID measurement at up to 1000 PSIG common mode pressure. Optional flushing ports with plugs are available for venting trapped gas, cleaning with appropriate solvents or flushing particulates out with water.

The M200 is part of Meriam's extensive line of handheld and field mounted pressure instruments that provide highly reliable, accurate and cost-effective measurement of gauge, compound, differential (dry and wet), absolute or vacuum pressure.

Meriam, a Scott Fetzer Company, has been a proud supplier of measurement and calibration solutions for nearly 100 years. Founded on the application of emerging technologies to solve measurement problems, Meriam remains committed to apply and develop new and emerging technologies to best meet the needs of today's industry. Meriam is recognized as a world class supplier of innovative instrumentation that is accurate, reliable, cost effective, rugged and easy to use. To learn more visit www.meriam.com.

---


Start Your

Free


Subscription to


Industry Market Trends

.