Product News: Materials & Material Processing
Silicon ESD Devices offer 20 kV air discharge rating.
Press Release Summary: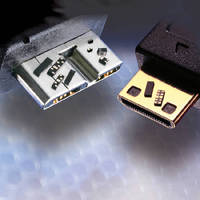 March 28, 2014 - Exhibiting ±20 kV and ±22 kV air discharge ratings, SESD Series helps designers solve pervasive protection challenge caused by charged board events. Products come in uni-directional and bi-directional configurations with input capacitance of 0.30 and 0.15 pF, respectively. Clamping voltage of less than 15 V helps facilitate fast turn-on time and minimize energy let-through to sensitive down-stream chipsets. Surge capability is 2.2 A for 4-channel array and 2.5 A for 1- and 2-channel devices.
Original Press Release
TE Connectivity's SESD Devices Help Designers Solve Complex ESD and Surge Protection Challenges
Press release date: March 20, 2014
Enhanced Silicon ESD devices offer 20kV air discharge rating for more robust protection in automobile, consumer and computing designs

Menlo Park — Design engineers are well aware that providing ESD (electrostatic discharge) protection according to the IEC's 61000-4-2 standard can fall short when guarding against the more severe damage caused by charged board events (CBEs). These extremely strong surge events are distinguished by a high peak current and fast rise time and can damage the I/O ports of smartphones, tablets, automotive infotainment devices and other sensitive electronics. Recognizing this, TE Connectivity's Circuit Protection business unit has introduced a new family of silicon ESD (SESD) devices. Exhibiting ±20kV and ±22kV air discharge ratings – which go well beyond the IEC's 8kV contact and 15kV air discharge standards – these devices help designers solve the pervasive protection challenge caused by CBEs.

"When working with design engineers we found that the IEC's standard for ESD protection didn't address the real problem of charged board events, or CBEs, that can result in product failures," said Nicole Palma, product manager for TE Circuit Protection. "Rising to this challenge, we enhanced our existing line of small, low-cap SESD devices to provide 20kVand higher surge capabilities. This more robust protection helps manufacturers increase product reliability and minimize field returns – key considerations in the fiercely competitive computing, mobile, consumer and automotive markets."

The new-generation SESD products come in both uni-directional and bi-directional configurations and are 1, 2, and 4-channel devices. They are available in tiny 0201and 0402 sizes and standard flow-through packages. In addition to offering 20kV contact discharge, the devices' surge capability (2.2A for 4-channel array and 2.5A for 1-and 2-channel devices) help provide more robust performance.

The SESD devices' input capacitance 0.15pF (bi-directional) and 0.30pF (uni-directional), at the high frequency spectrum, helps meet USB, HDMI, eSATA and other high-speed signal requirements. Their low clamping voltage (<15v) helps="" facilitate="" fast="" turn-on="" time="" and="" minimize="" energy="" let-through="" to="" sensitive="" down-stream="" chipsets.="" moreover,="" the="" very="" low="" leakage="" current="" (50na)="" of="" sesd="" devices="" helps="" reduce="" power="" consumption="" in="" applications="" where="" energy="" savings="" is="">15v)>

For further information or technical assistance, call (800) 227-7040, or visit www.circuitprotection.com. To find a sales representative in your area, please go to: www.circuitprotection.com/contactus.asp.

Model(s): 
Single Channel Devices:
• SESD0201X1UN-0030-088 – Uni-di, 0201 size, 0.30pF (typ) Input Cp,  8.8V (typ) VBR
• SESD0201X1BN-0015-096 – Bi-di, 0201 size, 0.15pF (typ) Input Cp, 9.6V (typ) VBR
• SESD0402X1UN-0030-088 – Uni-di, 0402 size, 0.30pF (typ) Input Cp, 8.8V (typ) VBR
• SESD0402X1BN-0015-096 – Bi-di, 0402 size, 0.15pF (typ) Input Cp, 9.6V (typ) VBR

Multi-Channel Devices:
• SESD0402Q2UG-0030-088 –Uni-di, 0402 size, 0.30pF (typ) Input Cp, 8.8V (typ) VBR
• SESD1004Q4UG-0030-088 –Uni-di, 1004 size, 0.30pF (typ) Input Cp, 8.8V (typ) VBR

Price:            Available upon request
Availability:   Samples available now
Delivery:       12 weeks, ARO

ABOUT TE Connectivity
TE Connectivity (NYSE: TEL) is a $13 billion world leader in connectivity. The company designs and manufactures products at the heart of electronic connections for the world's leading industries including automotive, energy and industrial, broadband communications, consumer devices, healthcare, and aerospace and defense. TE Connectivity's long-standing commitment to innovation and engineering excellence helps its customers solve the need for more energy efficiency, always-on communications and ever-increasing productivity. With nearly 90,000 employees in over 50 countries, TE Connectivity makes connections the world relies on to work flawlessly every day. To connect with the company, To connect with the company, visit www.te.com.

TE Connectivity, TE Connectivity (logo) and TE (logo) are trademarks.  Other logos, product and/or Company names might be trademarks of their respective owners.

Contacts:
Product Communications:
Nicole Palma
Product Manager, ESD Devices
TE Circuit Protection
nicole.palma@te.com
(650) 361-3219

Media Communications
Hope-Sutton Salvador
Sr. Manager, Global Marketing
TE Circuit Protection
hope-sutton.salvador@te.com
(650) 361-2160