Product News: Electronic Components & Devices
Self-Healing DC-Link Film Capacitors have 4 snap-in terminals.
Press Release Summary: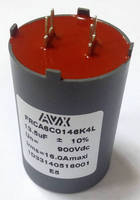 July 7, 2014 - Intended for power and power conversion applications, FRC Series features 9 voltages from 400–1,500 V, ±5% and ±10% tolerances, 4 and 8 mm lead lengths, and 4.7–35 µF capacitance values. Each unit consists of dry, wound, metallized polypropylene film dielectric encased in size A, self-extinguishing, cylindrical plastic case. To eliminate short circuit risk and enable continued operation, capacitors experience parametric loss of capacitance of ~5% from initial value.
Original Press Release
AVX Launches New Dc-Link Film Capacitor Series with Snap-In Terminals for Easy PCB Mounting
Press release date: June 25, 2014
Designed for use in a broad range of power & power conversion applications, FRC Series capacitors feature a wide range of capacitance & voltage values & exhibit self-healing capabilities

GREENVILLE, S.C. – AVX Corporation, a leading manufacturer of passive components and interconnect solutions, has launched the new FRC Series medium power DC-link film capacitors, which feature a wide range of capacitance and voltage values in addition to self-healing properties. Designed for use in DC filter circuits, power supplies, industrial inverters, UPS systems, motor drives, power converters, and solar inverters, FRC Series capacitors are comprised of dry, wound, metallized polypropylene film dielectric encased in a size A, self-extinguishing, cylindrical plastic case sealed with thermosetting resin and featuring four snap-in terminals that facilitate easy mounting to PCBs.

"The wide capacitance and voltage range of the new FRC Series polypropylene film capacitors, coupled with their self-healing capabilities and snap-in terminals for quick and easy PCB mounting, provide design engineers with several new high performance, high reliability capacitor solutions that will allow them to achieve a broad range of desired specs," said Gilles Terzulli, worldwide marketing manager, power film capacitors, AVX.

FRC Series capacitors are available in nine voltages spanning 400V-1500V, two tolerances (±5% and ±10%), two lead lengths (4mm and 8mm), and with capacitance values spanning 4.7µF to 35µF. Housed in size A cylindrical cases measuring 54mm (L) x 36mm (OD) x 5.1mm (P1), the RoHS-compliant series is rated for operating temperatures spanning -40°C to +105°C and exhibits long lifetime performance of 100,000 hours at rated voltage and 70°C.

Additionally, unlike aluminum electrolytic capacitors, FRC Series polypropylene film capacitors do not have a catastrophic failure mode. Instead, these capacitors simply experience a parametric loss of capacitance of approximately 5% from their initial value, eliminating the risk of short circuit and enabling continued functionality. Lead time for the series is approximately eight weeks, depending on demand, quantity, and model chosen; precise lead times will be confirmed upon receipt of order.

For more information about AVX's FRC Series medium power DC-link film capacitors, please visit http://www.avx.com/docs/Catalogs/FRC.pdf.  For all other inquiries, please visit www.avx.com, call 864-967-2150, or write to One AVX Boulevard, Fountain Inn, S.C. 29644.

About AVX
AVX Corporation is a leading international supplier of electronic passive components and interconnect solutions with 21 manufacturing and warehouse facilities in 11 countries around the world. AVX offers a broad range of devices including capacitors, resistors, filters, timing and circuit protection devices and connectors. The company is publicly traded on the New York Stock Exchange (NYSE:AVX).

For more information, contact:
Gilles Terzulli
Worldwide Marketing Manager
Power Film Capacitors, AVX
+33 3 80 71 75 28
terzullig@avxeur.com