Product News: Food Processing & Preparation, Material Handling & Storage, Chemical Processing & Waste Management
Sanitary Filter Receiver is designed for food applications.
Press Release Summary: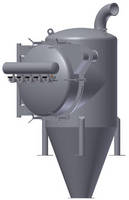 March 19, 2014 - Sanitary Filter Receiver (SFR) automatically separates product material from convey air for vacuum and pressure conveying sanitary applications in batch and continuous processes. Round corners as well as absence of ledges and hidden areas facilitate cleaning, while tool-less side entry access door affords access to filter media. Along with removable tube filter assemblies, features include integral 70° hopper, stainless steel construction, and pressure differential indicator.
Premier Pneumatics, Inc., A Member of the K-Tron Process Group
Original Press Release
Coperion K-Tron to Introduce New Sanitary Filter Receiver at the Powder Show, Rosemont, IL, May 6-8, 2014, Booth 1413
Press release date: March 1, 2014
Salina, Kansas, USA – Coperion K-Tron will introduce the New Sanitary Filter Receiver (SFR) at Donald E. Stephens Convention Center - Rosemont, IL, May 6-8. The SFR provides automatic separation of product material from the convey air for vacuum and pressure conveying sanitary applications in batch and continuous processes. The SFR is specifically designed for stringent food applications requiring quick clean-out and to reduce food contaminants and/or the cross contamination of allergens. The unit is easily cleanable with round corners, no ledges and no hidden areas. The tool-less side entry access door allows for safe and easy cleaning of the unit and simple access to the filter media for fast changeover. The access door and tube sheet are integrated on a single hinge with removable tube filter assemblies. The unique material entry design on the top of the receiver reduces can velocity concerns. The unit also features an integral 70 degree hopper, mounting legs and pressure differential indicator. The SFR is designed to meet FDA, EHEDG, ATEX standards and can easily be adapted for NFPA standards.

The SFR is available in a 914 mm (36 in) and a 1,219 mm (48 in) diameter unit. It is constructed from DIN 1.4301 [AISI 304 stainless steel with highly polished P150 grit Ra 0.8 surface on both the interior and exterior of the unit – commonly used in food processing and dairy equipment. All product contact welds are continuous ground flush and polished to 1.65 Ra (80 grit). The filter tube sheets include filters made from spunbond polyester with an ePTFE membrane which is FDA acceptable. The filters are cleaned by sequential pulses of compressed air from a removable, locally mounted accumulator. Pulsing intervals are adjusted via an DIN 1.4301 (AISI 304) stainless steel IP66 (NEMA 4X)  timer panel to ensure optimal cleaning.

Coperion K-Tron designs and manufactures sanitary support stands and service platforms to accommodate the SFR units.

Coperion K-Tron (www.coperionktron.com) Coperion K-Tron is a global leader and single source supplier of material handling and feeding systems. Coperion K-Tron has defined the leading edge of technology for material handling applications in the process industries.

For more information visit www.coperionktron.com or email info@coperionktron.com.

Contact:
Shari Lake
Director of Marketing
Coperion K-Tron Salina, Inc.
606 North Front Street
Salina, KS 67401 USA
Tele (785) 825-3884
slake@coperionktron.com
www.coperionktron.com