Product News: Computer Hardware & Peripherals, Electronic Components & Devices
SSD Controller features Flash-optimized architecture.
Press Release Summary: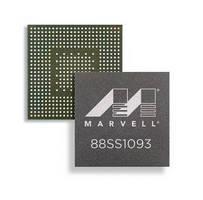 August 7, 2014 - Supporting up to 4 lanes of PCIe 3.0, Marvell® 88SS1093 NVMe SSD Controller is suitable for full 4 GBps or 2 GBps end points depending on host system customization, and enables optimized IOPS performance using NVMe advanced Command Handling. Device integrates third generation NANDEdge™ error-correcting and low-density parity check technology, which can support 15 nm TLC and 3D NAND. Other features include advanced Tri-core CPU architecture, up to 2 TB support, and SRIS capabilities.
Original Press Release
Marvell Extends Leadership in SSD Market with Groundbreaking PCIe 3.0 NVM Express SSD Controller
Press release date: August 5, 2014
The Marvell 88SS1093 delivers high-performance data center and client solid-state storage solutions with new Flash-optimized architecture and advanced NANDEdge LDPC technology

SANTA CLARA, Calif. -- Marvell (NASDAQ: MRVL) today announced the introduction of its first native Non-Volatile Memory Express (NVMe) solid-state drive (SSD) controller, the 88SS1093. The Marvell® 88SS1093 NVMe SSD controller delivers high-performance solid-state storage solutions with a fully Flash-optimized architecture overcoming the SAS/SATA performance limitations by optimizing hardware and software to take full advantage on NAND and addressing the needs of data centers and client systems that utilize next-generation PCIe 3.0 SSD storage. The 88SS1093 also integrates Marvell's third generation NANDEdge(TM) error-correcting, low-density parity check (LDPC) technology for higher reliability and endurance boost that was previously announced with Marvell's fifth generation SATA SSD controller, the 88SS1074.

"As the global leader of the storage industry, we are very proud of our innovation, invention, and contribution to the advancement of a wide range of storage technologies and products. I am very excited to see that our new SSD controller solution has once again raised the technology bar with superior performance, high reliability and robust security," said Weili Dai, President and Co-Founder of Marvell. "I am very proud of our close collaboration with leading tier one OEM and ODM partners around the world in enabling the rapid growth of the SSD market from client devices to data centers and enterprise systems. At Marvell, it is our pride and long term commitment to drive innovation to better lives for all in the new era of 'Smart Life and Smart Lifestyle'."

Supporting up to four lanes of PCIe 3.0, the 88SS1093 SSD controller is suitable for full 4GB/s or 2GB/s end points depending on host system customization and enables unparalleled IOPS performance using the NVMe advanced Command Handling. In order to fully utilize the high-speed PCIe connection, Marvell's innovative NVM Express design facilitates PCIe link data flows by deploying massive hardware automation without compromise. Marvell believes this high-efficient data flow management will alleviate the legacy host control bottlenecks and unleash the true Flash performance. The NVMe design has passed in-house SSD validation and third-party operating system and platform compatibility testing.

Marvell's third generation NANDEdge error-correcting, low-density parity check (LDPC) technology can support 15nm TLC and 3D NAND, resulting in low enabling cost of TLC and 3D NAND.  By developing single code for NANDEdge, SSD firmware developers are able to rapidly leverage one code to the other for the most advanced error-correcting technology for data integrity, endurance and reliability.

Key features of Marvell's new 88SS1093 NVMe SSD controller include:

--  Fully hardware automated NVMe 1.1 support
- Command overlay and out-of-order data return to deliver the full potential of NAND
- Hardware automation on command fetch and status return
--  15nm TLC/MLC/SLC and 3D NAND support with Marvell NANDEdge LDPC error correction control and management
--  Advanced Tri-core CPU architecture to support high performance requirements
--  SRIS capabilities to support SATA Express running PCIe 3.0 speed for the first time
--  Up to 2TB support
--  M.2/2.5 slim form factor support with thermal optimization and small package size
--  New low-power management(L1.2) design
--  Advanced 28nm CMOS process

The 88SS1093 is currently sampling to leading customers. Marvell believes its NVMe SSD controllers will be an ideal solution for next generation of high-performance SSD for client platforms coming in 2015 as well as today's hyperscale data center applications.

About Marvell
Marvell (NASDAQ: MRVL) is a global leader in providing complete silicon solutions and Kinoma® software enabling the "Smart Life and Smart Lifestyle." From mobile communications to storage, cloud infrastructure, Internet of Things (IoT), digital entertainment and in-home content delivery, Marvell's diverse product portfolio aligns complete platform designs with industry-leading performance, security, reliability and efficiency. At the core of the world's most powerful consumer, network and enterprise systems, Marvell empowers partners and their customers to always stand at the forefront of innovation, performance and mass appeal. By providing people around the world with mobility and ease of access to services adding value to their social, private and work lives, Marvell is committed to enhancing the human experience. For more information, please visit www.Marvell.com.

Marvell, the M logo and Kinoma are registered trademarks of Marvell and/or its affiliates. NANDEdge is a trademark of Marvell and/or its affiliates. Other names and brands may be claimed as the property of others.

For Further Information Contact:
Marvell Media Relations
Sue Kim
(408) 222-1942
suekim@marvell.com