SCADA Software facilitates supervision system design.
Press Release Summary: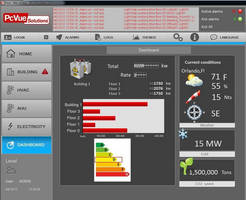 May 7, 2014 - PcVue® v11 reduces application development time via libraries, templating, and configuration environments. Provided tools include Application Architect (templating), Application Explorer (configuration and diagnostics), and Smart Generator (automatic application generation). Along with supports for 150+ protocols and various architectures, solution offers Web-based schedule manager, tools that facilitate monitoring and controlling of processes, and integrated DataExport module.
Original Press Release
New Version of PcVue Supervision Software
Press release date: April 28, 2014
ARC Informatique introduces PcVue 11, its latest SCADA solution. The company is an independent global SCADA provider with 30 years of experience. Its core product, PcVue®, is a leader in automation. For years, users have been appreciating its flexibility and open-endedness for designing modern supervision systems. It supports an extensive range of industrial protocols and offers a variety of architectures.Released in late 2013, PcVue® 11 integrates new tools that simplify application development, maintenance and enhance data viewing and processing.

A simpler way for development and maintenance
PcVue® 11's new libraries, templating and configuration environments will significantly reduce application development time. Application developers now have access to several thousand new images and animated objects (motors, valves, pipes, conveyor belts, displays, etc.) as well as many predefined, instantiable, templates that natively integrate the behaviour of the objects they represent (variables, alarm pop-ups, symbols, processing operations, thresholds, etc.).

PcVue® 11 also features sets of libraries for specific fields such as BMS (heat exchangers, air handling systems, heating systems, lighting, etc.) and electrical distribution systems (circuit breakers, fault detectors, dynamic coloring, etc.).

PcVue® 11 integrates three configuration tools to reduce application configuration times - Application Architect (templating), Application Explorer (configuration and diagnostics) and Smart Generator (automatic application generation). In version 11, Application Explorer enhances diagnostics operations by displaying data flows within PcVue® as well as between PcVue® and external components. Smart Generator imports data from external sources (PLC programs, CAD software, etc.) so that applications can be generated automatically. Configuration data are synchronized and configuration errors are reduced in a single step.

Enhanced viewing and processing of data
PcVue ® 11 provides operators with tools that facilitate the monitoring and controlling of their processes.
Its Web-based schedule manager features a more intuitive and user-friendly interface.
The new, fully integrated, DataExport module statistically analyses data (min./max., average, duration and recurrence of faults, energy metering) and presents this data in an Excel spreadsheet.
Lastly, the TouchVue® solution enables programming-free access, through a smartphone or a tablet computer, to the process information in any PcVue® application and notifies users when alarms are triggered.
Along with WebVue®, a Web client that allows programming-free Web-based control of PcVue® applications, this module rounds out the PcVue Solutions® mobility offering.

PcVue® 11 - open and interoperable
PcVue® 11 supports more than 150 protocols. In the case of energy-management applications, PcVue® 11 conforms to the IEC 61850 standard, and its driver is DNV KEMA certified. IEC 60870-5-104 and DNP3 are also available.
PcVue® supports the BACnet® and LON® communications protocols for building automation and control networks. It also supports all standard IT technologies such as OPC Client/Server, SNMP, SQL Server, Windows Server and virtualization (VmWare® and Hyper-V®). PcVue® 11 is an ideal solution for a host of applications, including building management systems, energy management systems, electricity production and distribution, renewable energies, industry, infrastructure, transport, and water treatment and distribution.

PcVue Inc office
10 Tower Office Park,
Suite # 204
Woburn, MA 01801 - USA
Edward NUGENT
Phone: +1 (781)569-0646
Fax: +1 (781)569-6105
sales@pcvueinc.com

ARC Informatique
2, avenue de la Cristallerie
92310 Sèvres - France
Fabien RIGAUD
Phone: +33 4 76 182 912
Fax: +33 1 46 23 86 02
f.rigaud@arcinfo.com