Product News: Computer Hardware & Peripherals
Rugged Mission Computer suits airborne platform applications.
Press Release Summary: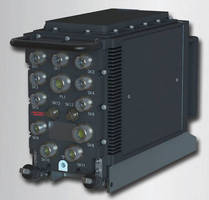 July 21, 2014 - To deliver 400 GFLOPS of compute power, MPMC-9365 supports up to 3 SFF Intel® Core™ i7 3rd Generation 2.1 GHz Quad-Core processor-based Curtiss-Wright VPX3-1257, 3U OpenVPX™ SBCs. This fully integrated, ITAR-free, Multi-Platform Mission Computer (MPMC) can also be configured with up to 2 VPX3-530 Xilinx® Virtex®-7 FPGA 4 GSPS ADC/DAC 3U VPX modules that deliver aggregate performance of 10 TMACS. SWaP-C optimized subsystem suits SIGINT and Mission Computer applications on airborne platforms.
Original Press Release
Curtiss-Wright Introduces New Fully Integrated ITAR-Free 6-Slot 3U OpenVPX(TM) Rugged Mission Computer for Compute Intensive Applications
Press release date: July 14, 2014
Compact MPMC-9365 Features multiple Intel® Core™ i7 SBCs and Xilinx® Virtex®-7 FPGA engines

ASHBURN, Va. — Curtiss-Wright Corporation (NYSE: CW) today announced that its Defense Solutions division has introduced a new fully integrated, ITAR-free compact mission computer, the MPMC-9365 Multi-Platform Mission Computer (MPMC). The compact, SWaP-optimized MPMC-9365  supports up to three (3) small form factor Intel® Core™ i7 3rd Generation 2.1 GHz Quad-Core processor-based Curtiss-Wright VPX3-1257 3U OpenVPX™ single board computers (SBCs) to deliver 400 GFLOPS of compute power. It can also be configured with up to two (2) VPX3-530 Xilinx® Virtex®-7 FPGA 4GS/s ADC/DAC 3U VPX modules that deliver an aggregate performance rated at 10TMACS.

Each of the VPX3-530 module's four (4) onboard ADCs have a data capture rate of 4GS/s, while each of the four (4) onboard DACs boasts an update rate of 5.6GS/s. To support high speed data transfers across its six (6) available slots, the compact system supports Gen 2 PCIe and Ethernet switching. Based on cost-effective open architecture 3U VPX commercial off-the-shelf (COTS) technology, this flexible and rugged processing system is available pre-configured to speed system integration and reduce design risk. The fully integrated, rugged system enables system designers to rapidly and easily integrate intensive compute power into deployed military platforms. The SWaP-C optimized subsystem is ideal for use in demanding SIGINT and Mission Computer applications on deployed rotor-wing and other airborne platforms.

"The MPMC-9365 is Curtiss-Wright's newest Application-Ready system, designed to deliver reliable, COTS computing for deployment in harsh airborne environments," said Lynn Bamford, Senior Vice President and General Manager, Defense Solutions division.  "With its powerful potent combination of Intel compute and Xilinx FPGA capability, its ready to meet today's toughest sensor processing challenges in a SWaP-C optimized compact half-ATR system."

Flexibility Built-In

For customers that require a Power® Architecture-based system, the MPMC-9365 can be built using those Curtiss-Wright SBCs that feature a common pinout with the VPX3-1257, depending on the required I/O.

Curtiss-Wright also offers customization services to tailor the MPMC-9365 to meet specific  requirements that can't be addressed with a standard off-the-shelf configuration. In addition, services are offered for making MCOTS (modified COTS) design changes at the module level if necessary.

Rugged from the Ground Up

To ensure optimal performance under the harshest deployed conditions, circuit cards installed in the MPMC-9365's system enclosure are isolated from external environmental conditions such as humidity, dust and sand. Cooling is accomplished by thermal transfer between the card edges of the system's conduction-cooled 3U VPX cards and the side walls of the enclosure. Heat is removed from the system's interior via an integral speed-controlled fan. EMI filters and gaskets are also employed to ensure system security and increased reliability.

For applications that require greater levels of compute performance, Curtiss-Wright offers cost-effective fully integrated systems based on its 7-slot 6U OpenVPX MPMC-9675 platform. Please contact the factory for more information.

For more information about the MPMC-9365, please click here.

Sales inquiries: Please forward all Sales and reader service inquiries to Kavita Williams, Curtiss-Wright Defense Solutions, Tel: (661) 705-1142; Fax: (661) 705-1206; email: ds@curtisswright.com

About Curtiss-Wright Corporation
Curtiss-Wright Corporation (NYSE:CW) is a global innovative company that delivers highly engineered, critical function products and services to the commercial, industrial, defense and energy markets.  Building on the heritage of Glenn Curtiss and the Wright brothers, Curtiss-Wright has a long tradition of providing reliable solutions through trusted customer relationships. The company employs approximately 10,000 people worldwide.  For more information, visit www.curtisswright.com.

Note: All trademarks are property of their respective owners.

- See more at: http://cwcdefense.com/media-center/press-release/c-w-introduces-mpmc-9365.html#sthash.tyjmtiLH.dpuf

John Wranovics
Director of Public Relations
Curtiss-Wright Defense Solutions
jwranovics@curtisswright.com
Mobile: (925) 640-6402