Product News: Mechanical Power Transmission
Reverse Displacement Motor suits fan drive applications.
Press Release Summary: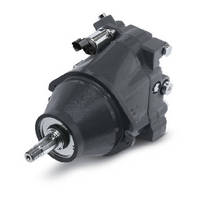 July 9, 2014 - Providing reverse circuit functionality without external valves, Reverse Displacement Motor offers hydraulic solution for mobile equipment. Integrated 12 V  proportional shifting valve allows smooth, on-the-go reversing using system pressure. Reverse functionality enables fan to purge trapped dirt and debris, restoring cooling efficiency. In addition to fan drive systems in Tier 4 agriculture, forestry, and construction equipment, motor is suited for conveyors and directional drills.
Danfoss Automatic Controls Div., Danfoss, Inc.
Original Press Release
Danfoss Introduces Unprecedented Reverse Displacement Motor (RDM)
Press release date: July 1, 2014
Summary:
Danfoss has introduced the innovative Reverse Displacement Motor (RDM). The RDM offers reverse circuit functionality without external valves — an unprecedented hydraulic system solution for mobile equipment. Ideal for fan drive systems, among other applications, the RDM enables customers to achieve up to 10 percent power savings, a 15 percent average reduction in total system cost, and reduced system complexity.

Danfoss is pleased to introduce the innovative Reverse Displacement Motor (RDM). The open circuit piston motor offers reverse circuit functionality without external valves — an unprecedented hydraulic system solution for mobile equipment applications. The RDM enables customers to achieve up to 10 percent power savings, a 15 percent average reduction in total system cost, and reduced system complexity.

The RDM is built on the proven efficiency and reliability of the L/K Axial Piston Motor from Danfoss. The compact motor features a 12V integrated proportional shifting valve that allows smooth, on-the-go reversing using system pressure. This simplified design eliminates the need for additional components, cost and pressure losses associated with the external valves and pressure supply necessary in typical reversing solutions.

Complementary to the Danfoss Series 45 open circuit axial piston pumps, PLUS+1® microcontrollers and DP700 PLUS+1 mobile machine displays, the RDM is ideal for fan drive systems in Tier 4 agriculture, forestry and construction equipment applications. The reverse functionality of the RDM enables the fan to purge trapped dirt and debris, restoring cooling efficiency. Danfoss fan drive packages including the RDM can be tuned to meet the unique cooling requirements of Tier 4 equipment applications.

"At Danfoss, we're dedicated to being our OEM's strongest partner in mobile hydraulics," said John Heller, Product Marketing Manager at Danfoss Power Solutions. "We understand how much OEMs have invested in meeting Tier 4 emissions regulations, and how much their customers value power savings. We know OEMs depend on our expertise, and we're pleased to offer the Reverse Displacement Motor, an industry-exclusive solution that conserves horsepower while minimizing system cost and complexity for the OEM."

In addition to fan drives, the RDM is well-suited for a full range of applications with the need for reversing capability, including conveyors, auger boring machines and directional drills.

In fan drive applications, the RDM is designed to protect the equipment. In the event of a controller or electrical failure, the fault position of the motor is biased to maximum forward speed, enabling the fan to maintain the integrity of the cooling system on the machine.

Around the world, mobile equipment manufacturers rely on Danfoss expertise for the most innovative work, propel, control and steering solutions. Working in partnership with customers, Danfoss provides high-value, high-performance components for a broad range of mobile equipment applications. Danfoss designs, manufactures and sells a complete range of engineered hydraulic and electronic components including hydrostatic transmissions, mobile electronics, orbital motors, steering components and PVG proportional valves.

For more information: powersolutions.danfoss.com

Related links:
http://powersolutions.danfoss.com/stellent/groups/publications/documents/product_literature/l1410616.pdf

For media information and photos:
Americas
Sarah Clark
Danfoss Power Solutions
Ames, Iowa, USA
+1 515-956-5233
sclark@danfoss.com

Europe
Warren Joiner
Danfoss Power Solutions
Nordborg, Denmark
+45 7488 4375
wjoiner@danfoss.com

APAC
Kentaro Ide
Danfoss Power Solutions
Osaka, Japan
+81 6-6395-6084
kide@danfoss.com

China
Amanda Guang
Danfoss Power Solutions
Shanghai, China
+86 21 3418 5390
infochina@danfoss.com

Danfoss is a global leader focused on innovative and energy-efficient solutions that save energy and costs, and reduce carbon emissions. The company's wide range of products and services are used in areas such as cooling food, air conditioning, heating buildings, controlling electric motors and powering mobile machinery. The company is also active in the field of solar and wind power as well as district heating and cooling infrastructure for cities and urban communities. Danfoss was founded in 1933 in Nordborg, Denmark. Today, the Group employs around 23,000 employees and sells its products in more than 100 countries around the world. Read more about Danfoss at www.Danfoss.com. Learn about its energy-efficient solutions at: http://www.danfoss.com/SolutionsReady/