Product News: Food Processing & Preparation, Material Handling & Storage, Waste Handling Equipment
Refill Station encourages sustainable hydration.
Press Release Summary: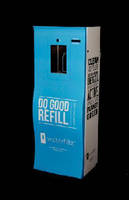 January 29, 2014 - Providing 24/7 access to chilled, naturally filtered water, Wave Refill Station helps minimize use of disposable bottles in shared and high-traffic spaces, such as offices and gyms. Filtration process removes contaminants as well as unpleasant tastes and odors from water without removing health-essential minerals and nutrients. Utilizing 24/7 on-board health monitoring system, unit reports water quality to WaterFillz Clean Team for quality assurance.
Original Press Release
WaterFillz USA Reveals New Wave Refill Station for Simpler, More Sustainable Hydration
Press release date: January 21, 2014
New refill station promises 24/7 access to clean, fresh-tasting water

LAKE FOREST, Calif., -- WaterFillz USA has just unveiled its innovative Wave Refill Station: a slim unit that dispenses free refills of chilled, naturally filtered water. The Wave is ideal for use in shared and high-traffic spaces, like offices and gyms, where anytime access to cold, clean water is a necessity.

Like other recently released WaterFillz refill stations, the Wave encourages people to start refilling instead of relying on disposable bottled water. But the Wave's benefits go even further. The Wave is also a convenient alternative to subscription-based water delivery services, which have made hydration a hassle of rising monthly charges, missed deliveries, and inattentive customer service.

By tapping into an existing water source, the Wave provides 24/7 access to water without ever relying on a delivery. And because the Wave doesn't require transportation of water jugs, it has a smaller carbon footprint as well.

"Bottled water isn't the only culprit making hydration complicated, costly and unsustainable. Lots of people are dissatisfied with their water delivery service, too – just look at their online reviews," said WaterFillz USA General Manager Steve Hess. "It's time for a new way to hydrate."

Four benefits of the Wave Refill Station:

Clean, healthy water: Drinking lots of clean water is vital to health and wellness. The Wave's filtration process removes contaminants as well as unpleasant tastes and odors from water without removing health-essential minerals and nutrients. And while many water delivery services don't report water quality and use plastic jugs that contain BPA, the Wave's filtration process is certified to NSF Standards 42 and 53 for contaminant reduction, and uses only BPA-free, FDA-approved food grade materials.

Health monitoring: Every Wave is equipped with a 24/7 on-board health-monitoring system, which reports water quality to the WaterFillz Clean Team for quality assurance.

Energy efficiency and sustainability: By helping swap out disposable bottles for Earth-friendly refills, every place that installs a Wave becomes a launchpad for the future of sustainable hydration. The Wave also refrigerates water using less electricity than a lightbulb, which is good news for energy costs and the planet.

Emergency Preparedness: Because its filter has been tested to eliminate 99.9999% of microbiological contaminants, the Wave is a lifeline in the event that local tap water supplies are compromised by industrial runoff, leakages or microbiological impurities.

"People love the unparalleled convenience of the Wave," Hess said. "Once installation is complete, which takes less than twenty minutes, the unit does everything on its own. We even monitor the water quality for you. We're proud to share this simple and sustainable hydration solution. After all, drinking lots of water is the cornerstone of productivity, energy and general wellbeing."

About WaterFillz
WaterFillz is a maker of refill stations that seeks to make hydration more logistics-friendly and hassle-free.

For more information, visit waterfillzusa.com/wave-refill-station

Contact:
Steve Hess
WaterFillz USA
714-261-9468
waterfillzusa.com