Product News: Sensors, Monitors & Transducers
Radar Level Transmitters measure using guided waves.
Press Release Summary: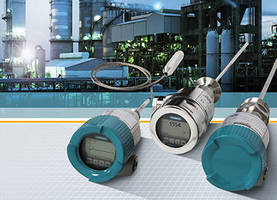 January 24, 2014 - With EHEDG, FDA, and 3A certificates, Sitrans LG240 is designed for hygienic applications in pharmaceutical or food/beverage industries. Sitrans LG250 provides liquid level measurement, while Sitrans LG260 measures levels of solids, granulates, and powders. For particularly harsh environments with temperatures up to 842°F and pressures up to 5,800 psig, such as those in chemical or petrochemical industry, Sitrans LG270 can be used. Transmitters provide measurement accuracy up to 0.08 in.
Original Press Release
Application Flexibility with Guided Wave Radar
Press release date: January 15, 2014
Nuremberg, -- New product family of Sitrans LG radar level transmitter measures using guided waves

Four basic versions and wide-ranging configuration options cover a particularly broad application spectrum in all process industries

Also suitable for use in hygienic applications and in harsh environments

With its new Sitrans LG series, Siemens is offering a flexible portfolio of guided wave radar transmitters suitable for virtually any type of industrial application. The modular design of the four basic versions Sitrans LG240, Sitrans LG250, Sitrans LG260 and Sitrans LG270, with numerous configuration options, allows for level measurement in the oil and gas, chemical, pharmaceutical as well as food and beverage industries. The modular radar transmitter covers a broad application spectrum for the measurement of liquids and interfaces, from aggressive materials to hygienic conditions and complies with SIL2 safety standard.

Sitrans LG240 was specifically designed for hygienic applications in the pharmaceutical or food and beverage industries and has the required EHEDG, FDA and 3A certificates. The Sitrans LG250 is ideal for the wide range of liquid level measurement such as those in water treatment applications. The Sitrans LG260 version accurately measures levels of solids, granulates and powders even with extreme dust. In particularly harsh environments with high temperatures up to 450 degrees Celsius (842 °F) or high pressures up to 400 bar (5800 psig), such as those in the chemical or petrochemical industry, the Sitrans LG270 is the best choice.

Sitrans LG's high frequency microwave pulses are transmitted down a rod or cable, offering reliable measurement with up to two millimeter (0.08 inch) accuracy in applications with corrosive vapors, steam, foam, surface agitation and/or liquids with high viscosity, low level, and varying dielectric or density.

Installation is simple with the device's range of pre-configured options, such as customized enclosure materials, process connections, approvals and communication options. Users will be operational in minutes with four-button programming directly at the instrument or through remote configuration with Siemens Simatic PDM (Process Device Manager) via HART communications protocol.

Further information on Sitrans radar level transmitter can be found at www.siemens.com/sitransLG

The Siemens Industry Sector (Erlangen, Germany) is the world's leading supplier of innovative and environmentally friendly automation and drive technology, industrial software and technology-based services. The Sector's comprehensive portfolio covers the entire industrial value chain, from product design, engineering and production to services. Siemens enhances its customers' productivity, efficiency, and flexibility in a wide variety of different industries. With a global workforce of more than 100,000 employees, the Industry Sector comprises the Divisions Industry Automation, Drive Technologies and Customer Services as well as the Business Unit Metals Technologies. For more information, visit http://www.siemens.com/industry

Mr. Peter Jefimiec
Industry Automation Division
Siemens AG
Gleiwitzerstr. 555
90475  Nuremberg
Germany
Tel: +49 (911) 895-7975
peter.jefimiec​@siemens.com