Product News: Computer Hardware & Peripherals
Rackmount NAS Devices provide cross-platform file sharing.
Press Release Summary: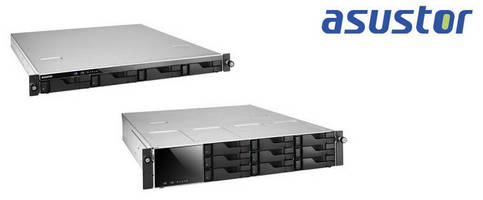 February 8, 2013 - Powered by 2.13 GHz Intel® Atom™ dual-core processor, 4-drive bay AS-604RS and AS-604RD and 9-drive bay AS-609RS and AS-609RD include enterprise-level 1U and 2U NAS devices verified as VMware, Citrix, and Hyper-V ready. Models AS-604RD and AS-609RD feature redundant power supplies in addition to standard features such as dual gigabit Ethernet ports, eSATA, and SuperSpeed USB 3.0 interfaces; hard drive hot swap support; and OS designed around use of Apps.
Original Press Release
ASUSTOR Releases Enterprise-Level Rackmount NAS
Press release date: January 29, 2013
An optimal storage solution for businesses that features the Intel® Atom™ 2.13 GHz dual core processor and support for VMware, Citrix and Hyper-V virtual environments

Taipei, Taiwan–ASUSTOR Inc., a leading innovator and provider of network storage solutions, today announced the release of four new enterprise-level 1U and 2U rackmount NAS devices. These new devices consist of the four drive bay AS-604RS and AS-604RD models and the nine drive bay AS-609RS and AS-609RD models. All devices come equipped with the Intel® Atom™ 2.13 GHz dual-core processor which combines supercharged performance with low power consumption. Furthermore, all devices are verified as VMware, Citrix and Hyper-V ready, providing businesses with a flexible and cost-efficient virtual storage solution.

"Our new rackmount NAS models include the type of hardware specifications required by the most demanding business environments such as dual gigabit Ethernet ports, eSATA and SuperSpeed USB 3.0 interfaces and support for hard drive hot swapping." said Johnny Chen, Product Manager at ASUSTOR. "The AS-604RD and AS-609RD models also feature redundant power supplies meaning that should the primary power supply fail, a second one will automatically start running to keep the NAS powered on. This undoubtedly gives businesses the type of 24/7, round-the-clock, uninterrupted access that they need."

ASUSTOR's new rackmount NAS devices all come with ASUSTOR Data Master (ADM), the world's first NAS operating system designed around the use of Apps. Pre-installed NAS Apps include Activity Monitor which dynamically monitors your NAS and Access Control which allows you to create accounts and configure access rights to your NAS. All devices also feature 2-way backup via Rsync, FTP and Amazon S3. Additionally, users can use ASUSTOR's App Central to add functionality to their NAS by downloading Apps such as the popular RALUS (Symantec Backup Exec's remote agent) which allows businesses to remotely backup and restore their data stored on the NAS.

ASUSTOR NAS devices provide seamless cross-platform file sharing, allowing users to easily connect to their NAS device no matter if you are using Windows, Mac OS, or Unix-like operating systems. All devices come pre-installed with ADM Defender, which protects users' data against all malicious attacks. Secure multitenancy and SSL encryption also allow all users to access their data in a protected and stress free environment. As well, ASUSTOR's NAS devices also support military grade AES 256-bit encryption for each individual shared folder, providing the type of security and privacy that users require for their most confidential data.

For more product information please visit: http://www.asustor.com

About ASUSTOR

Founded in 2011, ASUSTOR Inc., a subsidiary of ASUSTeK Computer Inc., is a leading innovator and provider of private cloud storage (network attached storage) and video surveillance (network video recorder) solutions. ASUSTOR is devoted to providing the world with unparalleled user experiences and the most complete set of network storage solutions possible.

Press contact: marketing@asustor.com