Rack-Mount Power System supports 3 hot-pluggable 1.5 kW modules.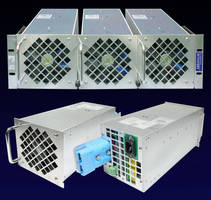 Rack-Mount Power System supports 3 hot-pluggable 1.5 kW modules.
August 10, 2012 - Able to deliver 4.5 or 3 kW with N+1 redundancy, PFC 4K5-3U19 Series comprises modular, rack-mount AC/DC power supply systems with PFC input. Each 4.5 kW system is built with 3 heavy-duty, hot-pluggable, 1.5 W (PFC 1K5) power supply modules on 3U x 19 in., rack-mount, stainless steel cradle. Accepting universal input from 95-264 Vac, 1.5 kW modules are available in output configurations that include 24 Vdc/60 A, 48 Vdc/30 A, 54 Vdc/27 A, 110 Vdc/13 A, and 125 Vdc/12 A.

Original Press release

Absopulse Electronics, Ltd.
110 Walgreen Rd.
Carp, ON, K0A1L0
Canada



4.5kW Rack-Mount Power System with Hot-Pluggable 1.5kW Modules


ABSOPULSE Electronics' PFC 4K5-3U19 Series modular, rack-mount AC/DC power supply system with PFC input delivers 4.5kW or 3kW with N+1 redundancy. The series was designed for critical applications in telecommunications, power utilities and industrial control.

The 4.5kW system is built with three, heavy-duty 1.5W (PFC 1K5) power supply modules assembled on a 3U x 19" rack-mount cradle. The cradle is constructed with high-grade stainless steel and mechanical features that allow for easy insertion of the 5" x 5" x 12" PFC 1K5 units. The modules are hot-pluggable and can be inserted or removed without powering the system down.

The 1.5kW modules each accept universal ac-input voltage (95-264Vac) and are available in several different output configurations including 24Vdc/60A, 48Vdc/30A, 54Vdc/27A, 110Vdc/13A or 125Vdc/12A. Customer specified input and output voltages are available. A built-in redundancy diode allows for parallel connection to increase current available to the load, as well as for N+1 redundant operation.

The PFC 1K5 units are each equipped with an AC-module fail alarm (Form C) and a diagnostic output ON LED. They have generous design headroom and are rated for operation over a 0ºC to 50ºC temperature range without de-rating. Each unit is cooled by a high quality built-in fan.

The modules comply with EN61000-3-2 and EN61000-3-12 directives for low input harmonic distortion as well as EN/UL60950 and equivalent industrial safety standards. They are filtered to meet EN55022 Class A EMI standards with large margins. Efficiency at full load is typically 80%. Protection features include 4300Vdc input to output isolation, output current limiting with non-hiccup type short-circuit protection and thermal shutdown with self-resetting.

Please contact company for price and availability.

Company Profile
Established in 1982, ABSOPULSE Electronics specializes in the design and manufacture of high-reliability, heavy-duty switch-mode power conversion products for the railway, industrial, military, marine, aeronautic, oil and gas, utility and telecommunications sectors.

Product Range
The company's product line includes AC-DC power supplies and battery chargers, DC-DC converters, sine-wave inverters, phase and frequency converters, DC-input dimmable back-light inverters for LCD displays, DC-output UPS systems, laboratory power supplies and complete power systems in 19" and 23" racks.

Design Capabilities
ABSOPULSE provides cost-effective solutions to almost any input, output and mechanical configuration requirement.

---


Start Your

Free


Subscription to


Industry Market Trends

.