Pulse Generator controls differential pumping system.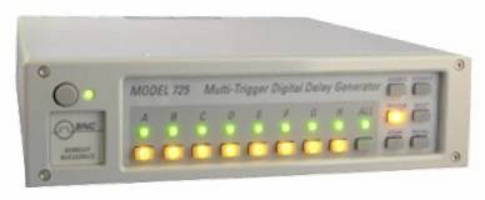 Pulse Generator controls differential pumping system.
January 27, 2011 - Model 725 Multi-Trigger Pulse Generator includes TimerPro software for visual control of 8 inputs, 8 outputs, and 8 triggers, and which controls delays and gates to valves, transfer coils, and deflector plates. Measuring 20.8 x 24.2 cm, product features timing unit that routes light pulses into chamber for storage, transfers it to second chamber, and then emits it from that chamber. Generator has 8 timing processors capable of less than 1 Ķs timing, and each timer can run in one of eight modes.

(Archive News Story - Products mentioned in this Archive News Story may or may not be available from the manufacturer.)
Original Press release

Berkeley Nucleonics Corp.
2955 Kerner Blvd.
San Rafael, CA, 94901
USA



TimerPRO Offers Microsecond Control of Differential Pumping System


Berkeley Nucleonics Corp is now offering the Model 725 Multi-Trigger Pulse Generator with TimerPro, a handy software application for visual control of 8 inputs, 8 outputs and 8 triggers. The small footprint is ideal for chamber or remote operations, measuring just 20.8cm x 24.2cm. The ability to graphically interrelate the 8 inputs and 8 outputs expand testing functionality without additional instruments and cables.

For Differential Pumping Systems, TimerPRO controls the delays and gates to valves, transfer coils and deflector plates. A single PC application enables storage of setup parameters or on-the-fly system modifications. The timing unit will route the users light pulses into a chamber for storing light, transfer that light to a second chamber at appropriate times and then emit light from the second chamber. The entire process is controlled and repeatable.

"Experiments and system testing used to demand a bench full of gear, with proper cabling and filters slowing down setup times. The Model 725 combines many functions and yet takes up so little space. With sub-microsecond timing and a well thought out software interface, the system should be considered by engineers and technicians", commented John Yee, Applications Manager.

The system includes 8 independent timing processors with sub-microsecond capability. Each timer can be set to operate in one of eight modes: (a) Fixed Output, (b) Output=Input (Passive Mode), (c) Delayed Pulse After Trigger, (d) Clocked Pulse Stream, (e) Validated Trigger Input (Noise Suppression), (f) Dynamically Delayed Pulse, (g) Timer, (h) Toggled Output. For more details, see http://www.berkeleynucleonics.com/resources/725_datasheet.pdf

About The Company:

Berkeley Nucleonics Corporation is a leading manufacturer of precision electronic instrumentation for test, measurement and nuclear research. BNC has its corporate headquarters in San Rafael, California with several additional manufacturing facilities and sales offices located throughout the United States.

---