Process Control Software helps maintain display libraries.
Press Release Summary: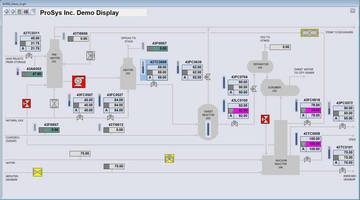 April 8, 2014 - Running natively in DeltaV Operate and Experion, Interface Dynamics v3 helps process plants and process industry firms with multiple control systems maintain disperate display libraries from different vendors. Plants and firms can use same display library, providing consistent and unified operator interface experience over multiple control platforms. Features include direct entry method, expandable objects, and ability to build situational-aware and task-oriented operator displays.


Original Press Release
ProSys Introduces Interface Dynamics for DeltaV
Press release date: March 31, 2014
Interface Dynamics delivers powerful, situational aware and task-oriented operator displays for Emerson's DeltaV automation system.

ProSys, a leading global provider of process control software and solutions, announces the Interface Dynamics Version 3 display library for Emerson Process Management's DeltaV automation system. The display library runs natively in Emerson's DeltaV Operate and Honeywell Process Solution's Experion. Subsequent versions are in development for other leading control systems.

Process plants and process industry firms with multiple control systems experience a significant problem when they have to maintain multiple display libraries from different vendors. With Interface Dynamics, these plants and firms can use the same display library, providing a consistent and unified operator interface experience over multiple control platforms.

Improved Performance
Interface Dynamics Version 3 enables users to build powerful, situational aware and task-oriented operator displays for DeltaV control systems. Interface Dynamics leverages the power of DeltaV Operate to design and run displays that increase operator awareness and reduce operator error.

Each object in the Interface Dynamics display library is fully tested with the latest version of DeltaV, and is guaranteed to operate seamlessly with peak performance within DeltaV Operate.

Interface Dynamics' unique direct entry method eliminates errors that can result from shifting operator focus. Expandable objects allow for additional information to be shown only when needed, instead of cluttering the display.

Works Across Multiple Platforms
Interface Dynamics provides all of the objects needed for chemical, petrochemical, refining and oil & gas upstream applications. Objects for Level 1, 2, and 3 displays are part of Interface Dynamics. A single style sheet is used regardless of the vendor platform to determine all colors and styles.

This gives the user the capability to standardize operator interfaces across the site or corporation, independent of vendor platform. It also allows easy upgrades to new versions of Interface Dynamics without modifying the operator displays, reducing total cost of ownership.

Training and certifying operators on one user experience as opposed to multiple vendor platforms is a major benefit for operators and operations management.

Tight Integration With Alarm Management
Interface Dynamics is integrated with ProSys' AgileOps alarm management solution, allowing the operator to shelve alarms directly from the process display. Interface Dynamics can also natively access boundary and alarm information in AgileOps to display recommended actions, time to respond, and other fields documented in the alarm rationalization.

With the introduction of AgileOps and Interface Dynamics on the DeltaV platform, ProSys continues its tradition of providing integrated platform-independent solutions in its Process Dynamics portfolio of solutions.

In addition to the Process Dynamics software products, ProSys provides related services including display philosophy development, operator console design, critical variable selection, level 1, 2, and 3 display design, and display drafting. Interface Dynamics is deployed as the sole display library at major refineries and chemical plants worldwide.

For more information on Interface Dynamics, please go to http://www.prosys.com/interfacedynamics.htm

About ProSys
ProSys, Inc. delivers high-quality, cost-effective, innovative process control systems consulting services and product solutions to the international refining and chemical industries. ProSys' expertise and experience cover the full range of modern control system technology, including basic control, advanced control, procedure automation, alarm management, optimization and the documentation and maintenance of the system configuration. For more information, visit www.ProSys.com

Contact:
Katherine Persac
Director of Sales and Marketing
+1-225-291-9591 x225
katherine.persac@prosys.com