Product News: Printing & Duplicating Equipment
Printing Press prints and converts self-adhesive labels.
Press Release Summary: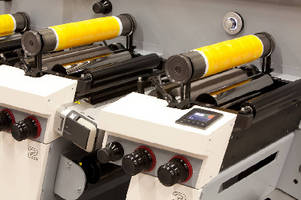 September 25, 2013 - Engineered with short-web technology, iStop, and pre-register solution to minimize waste and set-up time, EB Press supports up to 10 print stations, print width of 14.17 in., and material width of 14.5 in. System includes double die station suitable for front and back side die cutting, sheeting, and slitting. Using positioning rail system, various converting applications such as web turner bar, de-lam/re-lam, and laminating solutions can be implemented at any location along press.
Original Press Release
MPS Introduces the EB Cost-Effective Press
Press release date: September 17, 2013
Designed with a combination of MPS high-quality printing, performance, and affordability, the new EB press will be unveiled at Labelexpo Europe.

DIDAM, The Netherlands — MPS today announced the launch of its EB high-performance and cost-effective press designed for label printers in all market segments. Built with a combination of MPS high-quality printing, performance, and affordability, the new EB press will be unveiled at Labelexpo Europe 2013 held in Brussels.

Engineered with several unique features such as short-web technology, iStop and a pre-register solution to minimize waste and set-up time, the EB press is available with a print width of 360mm (14,17" inches), a material width of 370mm (14,5" inches), and is designed for printing and converting of self-adhesive labels.

With a configuration of up to ten print stations, the EB press is equipped with a double die station suitable for front and back side die cutting, sheeting and slitting. Various converting applications such as web turner bar, de-lam/re-lam, and laminating solutions including cold foil can be implemented at any location along the press using the MPS flexible positioning rail system. Additional solutions such as cross-over multi-layer labels can also be added. A range of drying options are available including UV drying, IR-combination drying and hot air drying solutions. The EB offers maximum productivity at an extremely affordable price-point.

MPS Technical Director & Co-founder Bert van den Brink comments: "To complement the EF and EXL series in our product range that offer extended levels of automation, we saw a market need to develop a press for label printers that also delivers high-performance MPS technology but at a much lower initial investment. It was a challenge to design a press comprising of high-quality components, technologies and ergonomic build without exceeding the budgeted costs to meet the attractive price point we wanted to achieve. With the EB press we proudly met our design goal."

Eric Hoendervangers, MPS Commercial Director adds: "With the theme in the MPS stand at Labelexpo Europe being 'The Choice is Yours', it is an ideal venue to launch our new EB press, the most cost-effective press MPS has ever built. It proves that MPS can accommodate a printer's price range and level of automation requirements in a printing press."

For more information on the EB, printers are invited to visit the MPS booth in hall 11, booth number Q40 at Labelexpo Europe, or contact the MPS sales team.

About MPS
MPS builds printing and converting machines for the self-adhesive and packaging printing market. MPS is responsible for a large number of revolutionary innovations like Crisp.Dot Flexo printing, Quick Change Die, automatic plate mounting and Automated Process Control (APC), including Job Memory. A user-friendly interface including iControl guarantees optimal operator satisfaction. The presses are developed with the absolute focus on print quality and the lowest cost per 1,000 labels.

Technology with Respect.

More info: www.mps4u.com