Portable Projector comes as stand-alone unit.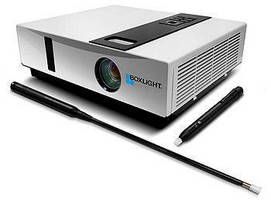 Portable Projector comes as stand-alone unit.
June 19, 2012 - Available in 5 models, ProjectoWrite features color camera with I/R filter that enables users to create projected images using wand and light pen. Projector has 8 W mono speaker, digital zoom adjustment up to 4x, anti-theft features, and 5 auto features, including Auto Search, Sync, Ceiling, Keystone, and Filter Alert. For operation, user plugs projector into computer source, saves software, and responds to 13 point or 4 point calibration.

Original Press release

Boxlight Corp.
19302 Powder Hill Pl. Ste. 101
Poulsbo, WA, 98370
USA



BOXLIGHT Redefines Interactive Learning Environment through "ProjectoWrite" Series


A revolutionary instructional and educational tool "ProjectoWrite"

New Delhi - BOXLIGHT, the global leader in projection technology which has been developing, manufacturing, selling, and servicing projectors today unveils five models in its new ProjectoWrite series that will meet the diverse requirements of its customers, be it a business executive, an academician, today's style conscious youth or the diligent learner.

BOXLIGHT Inc. is a US based company, which has entered into Indian market with an exclusive product and service partnership agreement with New Delhi based Edaxis Systems India Pvt Ltd.

The award winning ProjectoWrite is the first portable interactive presentation solution built in a stand- alone unit. The user needs to simply plug the ProjectoWrite into a computer source, save the software, respond to a simple 13 point or 4 point calibration and one is ready to interact. The innovative portable interactive projector comes with a colour camera with I/R filter mounted on the projector that encompasses solutions which enables the user to actively participate with the projected image with the help of the wand and light pen.

Unveiling the new ProjectoWrite series, Mr. Joy Ghosh, VP Sales & Marketing, Edaxis systems India Pvt. Ltd said "The BOXLIGHT projectors are unique in itself as it lays emphasis on the four major principles that is affordability, simplicity, flexibility and compatibility and we would like our partners to make end users to understand how BOXLIGHT is better in terms of quality, features, pricing, warranty and after-sales service."

Key Features:

o Write on the images or Text with included colors and highlighting tools

o Short Throw & Long Throw Lens A

o Save & Edit Images/ Drawings to image folder on your PC For later Viewing

o Portable

o Set up and interact in less than 5 minutes

o First Interactive Projector in the market, complete mouse control at the screen

o Advanced Anti-Theft features

o Five auto features (Auto Search, Auto Sync, Auto Ceiling, Auto Keystone and Auto filter Alert)

o Build in 8W Mono Speaker

o Digital zoom adjustment up to 4x

o Closed Caption

o Small software package

BOXLIGHT's ProjectoWrite caters to academician, defence personnel's, business people and trainers in any industry, law enforcement officials, and athletic coaches and also for anyone who wants to interact with a screen. BOXLIGHT is proud to have its customers spread across the globe.to name a few, the entire department of Defence (USA), NASA Jet Propulsion Laboratories, Puerto Rico Education system, Taiwan Education Department , and last but not the least even in India around 2900 BOXLIGHT projectors have been used within a year.

Pricing and Availability: The five new models launched under the new ProjectoWrite range include ProjectoWrite2, ProjectoWrite2 X22N, ProjectoWrite2 WX25N, ProjectoWrite 3 WX25NU and ProjectoWrite3 X25NU. These different models of ProjectoWrite projectors from BOXLIGHT have an outstanding free lifetime technical support and are available with Edaxis at a price starting from Rs. 69,000/- along with 5 year Warranty on Projectors and 2 year on Lamp.

About BOXLIGHT:

BOXLIGHT has been developing, manufacturing, selling, and servicing projectors for schools, government agencies, house of worship, and every customer in between since 1985. BOXLIGHT sold the 3rd LCD panel ever made over 25 years ago. Corporate headquarters are located in Belfair, Washington and house sales, marketing, technical support and service staff. Additional offices and manufacturing are located in Hsinchu, Taiwan, WuXi, China, and Mexico City, Mexico - meeting TAA compliancy and GSA standards. As a manufacturer, product innovation is built on customer needs. BOXLIGHT offers a diverse product line of interactive products, projectors and supporting accessories. Specialty or custom products are available for unique opportunities.

BOXLIGHT's are built to last. Side changing lamps & filters make them easy to maintain and a 99% success rate means they are dependable. BOXLIGHT stands behind products with best lamp and projector warranty. For more information email sales@boxlight.in or visit www.boxlight.in

---


Start Your

Free


Subscription to


Industry Market Trends

.