Product News: Test & Measuring Instruments, Sensors, Monitors & Transducers
Portable Gas Flow Analyzer features internal sensors.
Press Release Summary: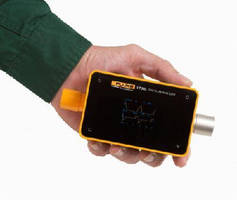 February 11, 2013 - Designed for mobile biomed and service engineers, Model VT305 combines 4-button control panel, auto-orienting color LCD, and single flow channel. Ansur Test Automation software minimizes human error, optimizes data consistency, and ensures compliance with OEM requirements. Providing instant readable graphs that can be saved or transferred via SD card, analyzer can test ventilators, anesthesia machines, insufflators, suction devices, pressure gauges, and flow meters.
Original Press Release
Fluke Biomedical Launches Simple, Portable, Efficient VT305 Gas Flow Analyzer
Press release date: February 5, 2013
EVERETT, Wash., -- Fluke Biomedical, a global provider of medical device test and safety equipment, announced today the debut of its new VT305 Gas Flow Analyzer.  Designed for the highly mobile biomed or service engineer, the small lightweight VT305 is simple to use, provides quick results and is engineered for efficiency.

"The VT305 Gas Flow Analyzer features internal sensors making connecting to medical devices a fast and easy process," explains Jerry Zion, Product Manager for Fluke Biomedical. "No additional parts are required and the VT305 fits in your hand.  You can get instant results in three simple steps.  The VT305 will be the portable test tool of choice for highly mobile users."  

An intuitive four-button control panel, auto-orienting color LCD screen and single flow channel are the secret to the simplicity of the VT305.  Additionally, the VT305 provides instant readable graphs that can be saved or transferred using an SD card.  Taking ease of use one step further, the automation provided by the Ansur Test Automation software helps reduce human error, improves data consistency, and ensures compliance with OEM requirements. And to top it off, the VT305 tests ventilators and all other gas flow and pressure-producing devices including anesthesia machines, insufflators, suction devices, pressure gauges, flow meters, etc.  The VT305 Gas Flow Analyzer is the efficient, versatile choice for biomeds looking to complete their test and measurement fleet.

For more information on the new VT305 Portable Gas Flow Analyzer, and product demonstration/training materials, visit www.flukebiomedical.com/VT305.

About Fluke Biomedical
Fluke Biomedical is the premiere, global provider of test and measurement equipment and services to the healthcare industry.  We strive to be the best at delivering innovative solutions to improve quality of global health.  We serve biomedical engineers, quality-assurance technicians, medical physicists, oncologists and radiation-safety professionals and are continually expanding our range of solutions to a broader range of health and safety professionals.  For more information on Fluke Biomedical, visit www.flukebiomedical.com. 

For More Information
Shannon Deveny
Marketing Communications Manager
(425) 446-6064
shannon.deveny@flukebiomedical.com

Web Site: www.flukebiomedical.com