Product News: Computer Hardware & Peripherals
Portable Dual Drive is powered via integrated Thunderbolt(TM) cable.
Press Release Summary: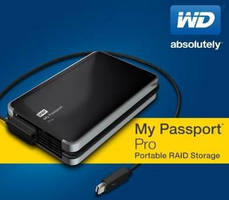 April 7, 2014 - Consisting of two 2.5 in. HDDs in one aluminum enclosure, My Passport® Pro comes in 2 and 4 TB capacities for Mac systems and delivers performance needed for speeds to 233 Mbps for accelerated transfer, editing, and backup capabilities while in field. User-selectable RAID function allows choice of data striping (RAID 0) for high performance or mirroring (RAID 1) for data redundancy. Bus-powered drive accelerates transfers and enhances data protection for large amounts of digital content.
Original Press Release
WD® Introduces First Thunderbolt(TM)-Powered Portable Dual-Drive
Press release date: March 27, 2014
My Passport® Pro, Featuring Bus-Powered, User-Selectable RAID Storage in Capacities Up to 4 TB, Delivers High Speed and True Portability for Creative Pros on the Go

IRVINE, Calif. -- WD(®), a Western Digital (NASDAQ: WDC) company, and world leader in storage solutions for the connected life, today introduced My Passport(®) Pro, the first portable, Thunderbolt(TM)-powered dual-drive solution, providing creative professionals and enthusiasts high performance and capacity in a truly mobile solution. For Mac systems, My Passport Pro has user-selectable RAID functionality to deliver needed performance for the most demanding applications in the field, without the need for power adapters or extra cables. My Passport Pro is available in 2 TB and 4 TB capacities.

"The only Thunderbolt dual-drive solution that's bus-powered, WD's My Passport Pro enhances the workflow of mobile creative professionals by providing fast transfers and data protection for the large amounts of digital content they generate outside the studio," said Jim Welsh, executive vice president of branded products and worldwide sales, WD. "From photographers, videographers and musicians to graphic designers and architects, people who depend on portable storage for their livelihood will find My Passport Pro defines a new level of performance, reliability and especially portability."

"Thunderbolt(TM) technology makes new approaches possible for high-performance workflows," said Jason Ziller, Intel's Director of Thunderbolt Marketing. "By combining dual storage drives on a portable, bus-powered device, the My Passport Pro from WD is a uniquely powerful storage solution with high capacity for today's demanding users."

Directly powered via the integrated Thunderbolt cable -- a design unique to WD -- performance of My Passport Pro clocks in at speeds up to 233 MB/s, providing super-fast transfer, edit and backup capabilities. Another key feature of the dual-drive My Passport Pro is its user-selectable RAID function, which lets users choose data striping (RAID 0) for high performance or mirroring (RAID 1) for data redundancy, depending on the user's needs. Superior to both FireWire 800 and USB 3.0, the integrated Thunderbolt technology of My Passport Pro makes video manipulation quick and easy--with the ability to copy a 22 GB high-definition video file in half the time typically required by a USB 3.0 drive working in RAID 0 format.

Consisting of two 2.5-inch hard drives housed in a sleek aluminum enclosure, My Passport Pro is thoroughly shock-tested for extra durability to perform reliably when working on the go.  

Pricing and Availability

My Passport Pro will be available immediately at Apple and major consumer electronics retailers and e-tailers as well as online at www.wdstore.com. Pricing for the 2 TB My Passport Pro is $299.99 and the 4 TB model is $429.99 USD.

About WD
WD, a Western Digital company, is a long-time innovator and storage industry leader. As a storage technology pacesetter, the company produces reliable, high-performance hard disk drives and solid state drives. These drives are deployed by OEMs and integrators in desktop and mobile computers, enterprise computing systems, embedded systems and consumer electronics applications, as well as by the company in providing its own storage products. WD's leading storage devices and systems, networking products, media players and software solutions empower people around the world to easily save, store, protect, share and experience their content on multiple devices. WD was established in 1970 and is headquartered in Irvine, California. For more information, please visit the company's website at www.wd.com.

Western Digital Corp. (NASDAQ: WDC), Irvine, Calif., is a global provider of products and services that empower people to create, manage, experience and preserve digital content. Its companies design and manufacture storage devices, networking equipment and home entertainment products under the WD, HGST and G-Technology brands. Visit the Investor section of the company's website (www.westerndigital.com) to access a variety of financial and investor information.

Western Digital, WD, the WD logo and My Passport are registered trademarks of Western Digital Technologies, Inc. in the U.S. and other countries. Not all products may be available in all regions of the world. Thunderbolt and the Thunderbolt logo are trademarks of Intel Corporation in the U.S. and/or other countries. As used for storage capacity, one terabyte (TB) = one trillion bytes. Total accessible capacity varies depending on operating environment.

CONTACT: Heather Skinner, WD Press Relations, 949.672.7920, heather.skinner@wdc.com; or Bob Blair, Western Digital Investor Relations, 949.672.7834, Robert.Blair@wdc.com