Product News: Electronic Components & Devices
Polymer Tantalum Capacitors work on higher line voltages.
Press Release Summary: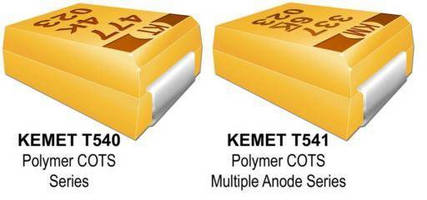 March 27, 2013 - KEMET Organic Capacitor (KO-CAP) products include 63 V product extensions for T521 High Voltage Polymer Series as well as extensions for T540 and T541 Hi-Rel Polymer Commercial-Off-the-Shelf (COTS) Series and T543 Polymer Tantalum COTS Series. Properties let designers working with higher voltage power systems, such as 48 V telecom rails, fully utilize benefits of polymer tantalum capacitors. Features include ESR as low as 6 mΩ and ability to be used on line voltages up to 50 V.
Original Press Release
KEMET Expands Its Polymer Tantalum Portfolio with First-To-Market Product Extensions
Press release date: March 19, 2013
New 63 Volt Offerings for High Voltage Polymer and Polymer COTS Series

GREENVILLE, S.C. -- KEMET Corporation (NYSE: KEM), a leading manufacturer of tantalum, ceramic, aluminum, film, paper and electrolytic capacitors, today announced the expansion of its KEMET Organic Capacitor (KO-CAP) family with the release of 63 volt product extensions for the T521 High Voltage Polymer Series, as well as first-to-market extensions for the T540 and T541 Hi-Rel Polymer Commercial-Off-the-Shelf (COTS) Series and T543 Polymer Tantalum COTS Series.

"KEMET's continued advancements in polymer technology now allow designers working with higher voltage power systems, such as 48 volt telecom rails, to take full advantage of the benefits found in polymer tantalum capacitors," stated Dr. Philip Lessner, KEMET Senior Vice President, Chief Technology and Marketing Officer. "KEMET's initial offerings included an industry leading capacitance value of 15 uF combined with an industry leading 35 volt rating. The 63 volt rating now allows designers to use KEMET polymer capacitors on line voltages up to 50 volts," continued Dr. Lessner.

In addition to use in higher voltage input rails such as 48 volt telecom rails, these 63 volt releases are ideal for 48 volt automotive power supplies currently in development and avionics designers seeking high voltage ratings that meet the transient and overvoltage requirements of MIL-STD-704F for the 28 volt power bus.

Typical markets include telecommunications, transportation, computer, industrial, lighting, alternative energy, and defense and aerospace. These devices range in price from $0.90 and greater, and complement KEMET's T520, T493, 497, and T528 Series.

Technical Information

KEMET's T521 High Voltage Polymer Series offers the benefit of greater capacitance in small form factors as well as enhanced electrical performance. Compared to current industry-leading capacitor values, these new releases allow designers to replace up to three of the highest rated component values previously available with a single component, thereby providing the lowest cost solution for power management.

KEMET's Polymer COTS Series has been designed, manufactured and tested to ensure high reliability and robust performance characteristics. With ESR as low as 6 milliohms (lowest in the industry), these devices result in significantly lower capacitance roll-off at frequency and temperature. Along with excellent power dissipating ability, this provides ripple current capability approximately three times higher than the equivalent MnO(2) capacitor.

Glossary

ESR    Equivalent Series Resistance

About KEMET

KEMET's common stock is listed on the NYSE under the symbol "KEM." At the Investor Relations section of our web site at http://ir.kemet.com/, users may subscribe to KEMET news releases and find additional information about our Company. KEMET applies world class service and quality to deliver industry leading, high performance capacitance solutions to its customers around the world and offers the world's most complete line of surface mount and through-hole capacitor technologies across tantalum, ceramic, film, aluminum, electrolytic, and paper dielectrics. Additional information about KEMET can be found at http://www.kemet.com.

Contact: Dean W. Dimke
Senior Director, Marketing Communications and Investor Relations
deandimke@KEMET.com
954.766.2806