Product News: Materials & Material Processing
Polyester-Based TPU suits injection molding applications.
Press Release Summary: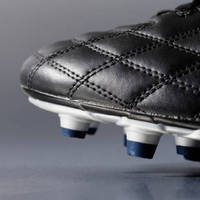 May 8, 2014 - Supplied uncolored in pellet form, Zythane® 4090A TPU exhibits abrasion resistance, hydrolytic stability, and resistance to oil, fuel, and solvents. Low temperature flexibility and color retention make it suitable for goggles, while these same qualities, in addition to creep resistance, rigidity/softness, and adhesion allow it to be used in production of soft sports cleats. For animal ID tags, product offers microbial and weather resistance, printability, and resistance to farm chemicals.
Original Press Release
APS Elastomers Develops Versatile Grade TPU for Injection Molding
Press release date: May 6, 2014
APS Elastomers has developed a versatile thermoplastic polyurethane (TPU) specifically formulated for injection molding applications.  The polyester-based TPU exhibits excellent abrasion resistance and toughness and has good hydrolytic stability, oil, fuel and solvent resistance. It is supplied uncolored in pellet form.

Zythane® 4090A TPU low temperature flexibility, color retention, and fast cycle times make it an excellent choice for goggles. These same qualities, in addition to creep resistance, rigidity/softness and adhesion allow it to be used in the production of soft sports cleats.  Furthermore, the grade's weather resistance, color stability, resistance to farm chemicals, microbial resistance, fast molding cycles, and printability, thermal stability and laser markability are the many benefits of using Zythane® 4090A for animal ID tags.

"Our Zythane® 4090A TPU offers durability, toughness, chemical resistance, flexibility and processing ease; rendering it the ideal material for a broad range of applications", says Stephane Morin, owner of APS Elastomers.

APS Elastomers is an independent TPU, TPE, TPV, and other elastomer resource offering in-depth technical service, problem-solving, marketing insight, product development and support to designers, marketers and processors.  APS Elastomers also provides expedited shipment and full laboratory services.

For more information on Zythane® 4090A TPU and how APS Elastomers can assist you with your unique applications, contact info@apstpe.com