Product News: Fasteners & Hardware
Pipeline Rubber Spacer improves topside thermal insulation.
Press Release Summary: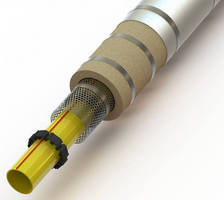 August 31, 2012 - By creating 1-2 cm air gap between topside pipelines and thermal insulation, Flexspacer stops direct contact between insulation material and pipe to prevent any damage to corrosion protection on pipe and help ensure thermal performance. Rubber-based product, qualified for use up to +302°F continuous service for 30+ years, can be installed without using hot work or special tools and can be connected and split to desired length using scissors.
Original Press Release
Trelleborg Launches Flexspacer for Improved Topside Thermal Insulation at ONS 2012
Press release date: August 28, 2012
Leading global manufacturer of polymer, syntactic foam and rubber-based solutions for the offshore industry, Trelleborg, has launched its latest innovation, Flexspacer, at ONS 2012. This unique product has been specifically developed to effectively create an air gap between topside pipelines and thermal insulation, thereby avoiding the corrosion that can occur when using traditional insulation systems such as mineral wool. By stopping direct contact between the insulation material and the pipe, Flexspacer prevents any damage to the corrosion protection on the pipe, helping to guarantee thermal performance.
Historically engineers have made air gaps between the pipe and thermal insulation using an additional sheet of metal applied in a wave pattern. However, this method can cause undesirable side effects including corrosion of the metal sheet and injury to engineers during work due to its sharp edges. Compared to these traditional methods, Flexspacer provides quick and easy installation, without the need for hot work or special tools, in turn reducing downtime and improving safety.
Oivind Eriksen, Rubber Components Director at Trelleborg Offshore, commented: "When it comes to the insulation of topside pipes, air gaps must be introduced between the insulation and pipe if engineers are to avoid damage and a significant reduction in thermal performance. We wanted to provide a high performance product, which not only provided a reliable solution, helping to guarantee thermal performance, but one that eliminated the undesirable effects that comes with traditional methods of creating an air gap.
"Flexspacer is a new rubber-based solution which provides a one to two centimeter air gap between the pipe and insulation, ensuring that no corrosion occurs. It can be easily installed without using hot work or special tools, and can be connected and split to the desired length using just a pair of scissors, making the installation quick and easy and without any additional safety actions.
"With the offshore industry heading towards even more challenging offshore applications, the need for high performance, durable and reliable products, has never been greater. We are confident that our latest innovation, which is unique to the market, will provide a reliable and extremely durable solution to a common problem within the offshore topside insulation market. Furthermore, its rubber construction means that it will last the life of an offshore project, as well as being maintenance free, providing reassurance to the offshore engineer."
Trelleborg has undertaken extensive testing on Flexspacer to ensure that the product is qualified for lifetime performance; it has been qualified for use up to +302 °F / +150°C continuous service temperature, for more than 30 years. Leading oil and gas production company, Statoil, has already made Flexspacer a preferred product in their future specifications.
For more information on the Flexspacer, or any of Trelleborg's other industry leading solutions, visit: http://www.trelleborg.com/offshore.
For additional information on Trelleborg Offshore solutions for all offshore and subsea markets, please call Ruth Clay, Direct: +18324568308, Mobile: +12817405755; ruth.clay@trelleborg.com.
For press information: Nikki Backler at IAS b2b Marketing. Clarence Mill, Clarence Road, Bollington, SK10 5JZ, United Kingdom. Tel: + 44 (0) 1625 578 578; Fax: + 44 (0) 1625 578 579. Email: nikki.backler@iasb2b.com.
Trelleborg Offshore and Trelleborg Group Using advanced polymer material technology, Trelleborg Offshore provides high integrity solutions for the harshest and most demanding offshore environments. As part of the Trelleborg Engineered Systems Business Area of Trelleborg Group, Trelleborg Offshore specializes in the development and production of polymer and syntactic foam based seismic, marine, buoyancy, cable protection and thermal insulation products, as well as rubber-based passive and active fire protection solutions for the offshore industry. Within its portfolio are some long established and respected brands including, CRP, OCP, Viking and Emerson & Cuming. Trelleborg Offshore has been providing innovative solutions to the industry for over 30 years and has the largest and most advanced syntactic foam manufacturing facility in the world. www.trelleborg.com/offshore
Trelleborg is a global industrial group whose leading positions are based on advanced polymer technology and in-depth applications know-how. Trelleborg develops high-performance solutions that seal, damp and protect in demanding industrial environments. The Trelleborg Group has annual sales of about SEK 22 billion (EUR 2.4 billion, USD 3.3 billion) with about 15,500 employees in over 40 countries. The Group comprises three business areas: Trelleborg Sealing Solutions, Trelleborg Wheel Systems, and Trelleborg Engineered Systems. In addition, Trelleborg owns 50 percent of TrelleborgVibracoustic, a global leader within antivibration solutions for light and heavy vehicles, with annual sales of SEK 13 billion (EUR 1.4 billion, USD 2.0 billion) and about 8 000 employees in over 17 countries. The Trelleborg share has been listed on the Stockholm Stock Exchange since 1964 and is listed on the NASDAQ OMX Nordic List, Large Cap. www.trelleborg.com