OPC and HMI Software offers expanded EFM features.
Press Release Summary: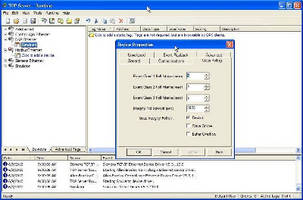 February 25, 2014 - Powered by Kepware, TOP Server v5.14 offers 130+ device drivers and plug-ins. Electronic Flow Measurement Suite expands existing options for exporting gas EFM data to include liquid EFM data. OMNI Flow and Fisher ROC Plus drivers include device models capable of collecting liquid EFM data for export. In addition, TOP Server offers automatic tag generation from Siemens STEP 7 project file, and expands ControlLogix Ethernet driver by implementing configurable CIP connection size up to 4,000 bytes.
Original Press Release
Software Toolbox Expands EFM Features for Connectivity Application
Press release date: February 18, 2014
EFM plug-in, OMNI Flow, Fisher ROC Plus for TOP Server updated with Flow-Cal Liquids support; driver enhancements include Allen-Bradley ControlLogix Ethernet, Siemens Ethernet drivers

CHARLOTTE, N.C.,– Software Toolbox® today announced the release of TOP Server Version 5.14 with new features such as an updated Electronic Flow Measurement (EFM) Suite with support for exporting OMNI Flow and Fisher ROC Plus EFM liquids data to the Flow-Cal CFX format.  The product release also features performance improvements for the Allen-Bradley ControlLogix Ethernet driver, automatic tag generation support and an added S7-1500 model for the Siemens® S7 Ethernet driver, as well as enhancements and fixes for many other existing communications drivers.

Powered by Kepware, TOP Server is Software Toolbox's OPC and native HMI device connectivity software application, offering more than 130 different device drivers and plug-ins.  The enhanced EFM Suite expands the already existing options for exporting gas EFM data to include liquid EFM data.  The OMNI Flow and Fisher ROC Plus drivers have been updated to include new device models capable of collecting liquid EFM data for export.  The EFM Simulator driver was also updated to generate simulated liquids data.  The EFM plug-in now supports exporting liquid EFM data from the OMNI Flow, Fisher ROC Plus and EFM Simulator drivers to the Flow-Cal V7 CFX format.

"Oil and gas industry customers frequently rely on EFM data analysis for custody transfer and production optimization purposes," said Kevin Rutherford, brand manager at Software Toolbox.  "By supporting both gas and liquid flow measurement, customers have even greater flexibility for how and where they can analyze both their gas and liquid EFM data.  Increasing ControlLogix performance allows customers in almost every industry to increase efficiency in data collection in a world where they need all of their data yesterday.  And the added convenience of automatic tag generation for Siemens S7 users lowers the time and money required for a project by reducing the amount of necessary configuration time."

For connectivity with Allen-Bradley Logix controllers supporting large forward open connections, TOP Server expands the ControlLogix Ethernet driver capabilities by implementing a configurable CIP connection size of up to 4,000 bytes.  Previously, the connection size was fixed at 500 bytes, so this enhancement enables significant performance gains and reduction of network traffic when communicating with supporting controllers.
                                                                     
TOP Server Version 5.14 also brings improvements to the Siemens S7 Ethernet driver.  The driver now supports automatic tag generation from a Siemens STEP 7 project file for both S7-300 and S7-400 models.  Generating tags directly from the controller project eliminates the need to manually configure static tags in TOP Server, delivering significant time efficiencies.  A new S7-1500 device model has also been added, allowing TOP Server to easily communicate with the latest S7 controller model.

Additional improvements in TOP Server Version 5.14 include:

Data Logger Plug-In Store-and-Forward – The plug-in now supports storing data locally to disk in the event of a connectivity issue to the database.  Once the connection issue is resolved, all data is forwarded for storage in the database, virtually eliminating any data loss due to lost connections.
New Modbus Ethernet Device Model – The driver now supports communication with CEG devices, which have extended Modbus block sizes not supported by standard Modbus implementations.  TOP Server supports configuring these larger block sizes for this new model.
Other Driver Updates – Drivers with expanded functionality and improvements include ABB Totalflow, IEC 61850, Mitsubishi Ethernet and OPC XML-DA Client. For full details of updates and enhancements in TOP Server Version 5.14, please see the release notes.

TOP Server Version 5.14 is available for download or as an upgrade for users with active support and maintenance contracts at http://www.toolboxopc.com.

The Software Toolbox name is a registered trademark of Software Toolbox, Inc.  All Rights Reserved Worldwide.
The name Siemens® is a registered trademark of Siemens AG.  Usage of Siemens® does not imply endorsement by Siemens AG.

Media/Analyst Contacts:
John Weber
Software Toolbox, Inc.
pr@softwaretoolbox.com
(704) 849-2773, ext. 1122