Product News: Computer Hardware & Peripherals, Machinery & Machining Tools, Communication Systems & Equipment, Electronic Components & Devices
Multiradio System-on-Module supports Linux platform.
Press Release Summary: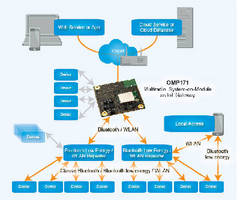 May 15, 2014 - Combining open source Linux kernels with wireless connectivity, Model OMP171 provides multiradio capability across Classic Bluetooth, Bluetooth low energy, and WLAN with full support for 2.4 GHz and 5 GHz radio bands. As gateway, OMP171 becomes networking device routing packets from wireless device to network. Other features include wide range of certified antennas, embedded NAND flash memory, and multiple interface implementations including UART, SPI, Ethernet, GPIO, USB, and CAN.
Original Press Release
connectBlue® Reveals a High Performing Multiradio System-on-Module with Linux
Press release date: May 14, 2014
At the opening of Japan IT Week, connectBlue presents its new Multiradio System-on-Module OMP171 which offers full flexibility and wireless connectivity on a compact Linux platform. The OMP171 provides multiradio capability across Classic Bluetooth, Bluetooth low energy and WLAN with full dual-band support for the 2.4GHz and 5GHz radio bands.

The new Multiradio System-on-Module OMP171 is the result of combining the latest powerful open source Linux kernels with proven, robust connectBlue wireless capability. Customer developed applications can be embedded directly on top of the integrated software stack in the connectBlue wireless module.

"With our new Multiradio System-on-Module it will be possible to easily develop new and innovative wireless products for the most demanding applications," says Rolf Nilsson, CEO of connectBlue. "Since the OMP171 has a proven multiradio module embedded and comes with an optimized Linux kernel, it is completely ready-to-go and thereby becomes a high performing and cost efficient solution."

The high performing Linux based Multiradio System-on-Module OMP171 is ideal for advanced applications especially when the OMP171 acts as a gateway. As a gateway, the OMP171 becomes a networking device routing packets from a wireless device to the network. Thereby, the OMP171 gateway can combine the functions of a wireless access point, a router, and provide secure wireless and Internet connections. Further, thanks to its multiradio functionality, even more application possibilities appear. For instance, one can decide that the gateway is to act as protocol converter for installed based devices and transfer the converted data upstream using the new data formats available on Internet (RESTFul, XMPP, MQTT etc.).

The Multiradio System-on-Module OMP171 has integrated connectBlue optimized Linux kernel. Other particularly useful features include wide range of certified antennas, embedded NAND (Negated AND or NOT AND) flash memory, and complete multiple interface implementation including UART, SPI, Ethernet, GPIO, USB and CAN.

The Multiradio System-on-Module OMP171 covers Bluetooth dual-mode and WLAN dual-band wireless connectivity for embedded systems. The OMP171 is a Bluetooth dual-mode (also commonly referred to as Bluetooth Smart Ready) device that supports both Classic Bluetooth and Bluetooth low energy v4.0. The OMP171 WLAN (also commonly referred to as WiFi) support covers 802.11 a, b, g, n and full dual-band coverage of 2.4GHz and the 5GHz U-NII bands (U-NII band 1, 2, 2e, 3).

The OMP171 is radio type approved for USA (FCC Part 15), Europe (ETSI R&TTE), Japan (MIC - formerly TELEC) and Canada (IC RSS). The OMP171 is also compliant with EMC, Safety and Medical standards, and Bluetooth qualified. The temperature range covers -40°C to +85°C.

About connectBlue
connectBlue® is a leading provider of reliable wireless solutions for the last hundreds of meters of connectivity. The robust and high performing products are designed and tested for demanding industrial, medical, measurement / data acquisition and quality assurance applications. Based on Classic Bluetooth, Bluetooth low energy, WLAN and Multiradio solutions, connectBlue develops wireless system-on-modules, wireless ready-to-embed modules as well as wireless ready-to-use Serial / Ethernet Port Adapters and Access Points. The connectBlue products are radio type approved for the European, US, Canadian, Japanese markets as well as are compliant with EMC, Safety and Medical standards, and the Bluetooth qualification program. connectBlue has its head office in Sweden and local offices in Germany and USA. For more information, please visit www.connectblue.com. connectBlue® is a registered trademark of connectBlue AB.

Links for this Press Release
Download press release as .PDF: http://www.connectblue.com/uploads/media/PRESS_RELEASE_connectBlue_OMP171.pdf

connectBlue on Social Media
LinkedIn: http://www.linkedin.com/company/connectblue
Twitter: http://twitter.com/connectblue
YouTube: http://www.youtube.com/connectBlueAB

For further information
Rolf Nilsson, CEO, connectBlue
Phone: +46 40 6307102
Email: rolf.nilsson@connectblue.com