Product News: Test & Measuring Instruments
Multi-Axis Optical Micrometer supports high-speed operation.
Press Release Summary: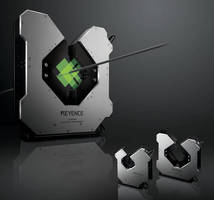 February 19, 2014 - With standard sampling rate of 16,000 Hz that virtually eliminates effects of target vibration on measurement value, LS-9000 series is designed to keep up with any production line while maintaining repeatability of 0.03 μm. Vibration isolation system within head protects against damage from vibration and impact, and design has no moving parts. Target monitor and tilt correction function lets users see position of target in measurement axis in real-time via integrated CMOS camera.
Original Press Release
KEYENCE Releases a New High Speed Multi-Axis Optical Micrometer
Press release date: February 18, 2014
Itasca, IL
Product overview
The LS-9000 series optical micrometer sets a new standard for high speed and high precision diameter inspection. With a standard sampling rate of 16,000 Hz, the system is designed to keep up with any production line while maintaining an industry leading repeatability of 1.2 millionths of an inch. (0.03μm) In addition the system had been designed from the ground up with durability and ease of use in mind and incorporates several features to both simplify setup and reduce cost of ownership.

Industry Leading Performance
With a newly designed LED system and HS-CMOS, the LS-9000 eliminates errors that were previously endemic to optical micrometers. Not only can the system keep up with modern high throughput production, the enhanced sampling rate virtually eliminates the effects of target vibration on the measurement value. With the next generation enhancements to the optics included in the LS-9000, the system can now achieve an unprecedented repeatability of 1.2 millionths of an inch (0.03μm). The level of performance achieved by the LS-9000 system allows it to monitor even the tightest production tolerances.

Revolutionary Durability
The LS-9000 series incorporates no moving parts in its design. This not only almost completely eliminates the wear and tears common to traditional systems, it also allows the system to be far more resistant to common production floor mishaps. Incorporating a custom designed vibration isolation system within the head, the LS-9000 is able to resist damage from vibration and impact.

Ease of Use Focused Design
As with all Keyence systems, the LS-9000 incorporates features designed to greatly simplify implementation and reduce setup time. Available with both a target monitor and tilt correction function, users are able to see the position of the target in the measurement axis in real time via an integrated CMOS camera, as well as correct for any misalignment in the part due to imperfect part presentation.

Reduced Cost of Ownership
In addition to the greatly reduced maintenance costs due to Keyence's industry leading durability, the LS-9000 allows streamlining the inspection process by incorporating the capability for on-board monitoring of up to four measurement axes per LS-9000 series controller. In addition, this controller has the ability to perform a variety of SPC, Calculation, and data logging functions as well as incorporates optional network and PLC interface systems.

For LS-9000 Multi-Axis Optical Micrometer Specifications and Application Examples please visit:  http://www1.keyence.com/PRLS9

For further product information, contact:
Sergei Shirokov
Senior Applications Engineer
Keyence Corporation of America
1100 N Arlington Heights Rd, Suite 210
Itasca, IL 60143
Tel: 1-888-539-3623 x70710
Email: sshirokov@keyence.com

KEYENCE has steadily grown since 1974 to become an innovative leader in the development and manufacturing of automation equipment worldwide. Our products consist of automation sensors, static eliminators, barcode readers, measuring instruments, vision systems, laser markers, and digital microscopes.