Product News: Material Handling & Storage, Mechanical Power Transmission
Motorized Slides and Cylinders offer quick positioning.
Press Release Summary: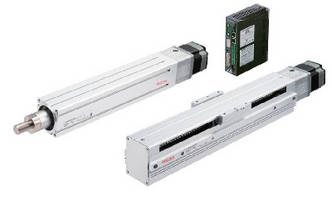 July 21, 2014 - Capable of operating from low speed to high speed and with light loads or heavy loads, EAS Series Motorized Linear Slides and EAC Series Motorized Cylinders are available with ball screw drive method, in lengths from 50–500 mm and with maximum horizontal/vertical transportable mass of 60 kg/30 kg. Units come in traditional Straight type or with space-saving Reversed Motor. To match requirements of host PLC, built-in controller with Modbus or pulse input type drivers are available.
Original Press Release
Oriental Motor Introduces the EAS and EAC Series Linear Actuators and Motorized Cylinders
Press release date: July 18, 2014
Large Transportable Mass and Quick Positioning

Oriental Motor USA is proud to introduce our newest and most cost effective linear actuators, the EAS Series motorized linear slides and the EAC Series motorized cylinders. Capable of operating from low speed to high speed and with light loads or heavy loads, these motorized linear slides and cylinders are easier to use and offer high performance regardless of demanding operating conditions. The new EAS and EAC Series linear actuator products are available with ball screw drive method, in length from 50 mm up to 500 mm and with maximum horizontal transportable mass of 60 kg, maximum vertical transportable mass of 30 kg. Available in a traditional Straight type or now with our space saving Reversed Motor type at the same price, designed to maximize space and provide simple maintenance. The EAC cylinder comes with or without a guide for maximum design flexibility.

The EAS and EAC Series are equipped with the AR Series motor and driver package, which means a common drive platform for many actuator applications including motor and driver only if required. 2 types of EAS and EAC Series drivers are available to match the requirements of the host PLC (Master Controller): Built-in Controller (Stored Data) with Modbus (RTU) or Pulse Input Type. Expanded functions and specifications, such as easy transfer of operating data and parameter settings, teaching and remote operation, I/O monitoring and alarm monitoring along with various display functions can be set on the driver via a data MEXE02 setting software (available for free download) or via the OPX-2A control module sold separately.

The EAS and EAC Series' key features are:
• Quick positioning
• Large Transportable Mass
• Built-in Controller (Stored Data) Type with Modbus (RTU) or Pulse Input Type drivers
• Straight Type or Reversed Motor Type, same price

Visit our web site to learn more about the new EAS and EAC Series and other linear and rotary actuator packages at http://www.orientalmotor.com/products/rotary-linear-actuators/index.html

ABOUT ORIENTAL MOTOR
Since its founding in Japan in 1885, Oriental Motor has been a world leader in motion systems.  For over a century we have concentrated on technological advancement and product design improvement—an emphasis evident in the sophisticated devices we market today. Oriental Motor's sales and service network is international, with offices throughout North America, Europe and Asia.  Domestically, ORIENTAL MOTOR U.S.A. CORP. was established in 1978.

For more information:
Technical Support, 800-468-3982, techsupport@orientalmotor.com