Modular Extractive Gas Analyzer supports small range selection.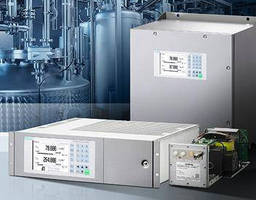 Modular Extractive Gas Analyzer supports small range selection.
June 20, 2012 - Siprocess GA700 series consists of basic device used with local UI, communication interfaces, and power supply. Various analyzer modules are integrated into basic device depending on measuring task; each module consists of actual analyzer and sensor electronics, including evaluation software and required interfaces. Oxymat module measures oxygen in selectable ranges of 0-0.5% with detection limit of 50 ppm as well as 0-100% and 99.5-100% while ensuring absolute linearity.

Original Press release

Siemens AG
Wittelsbacherplatz 2
Munich, , D-80333
Germany



Modular Basic Device for Extractive Gas Analysis Permits Selection of Very Small Measuring Ranges


Nuremberg, Germany -- The Siprocess GA700 series from Siemens Industry Automation Division is a new extractive gas analyzer family with an innovative platform concept. A modular basic device is used with local user interface, communication interfaces, power supply, basic electronics, and software. Various analyzer modules are integrated into the basic device depending on the measuring task. Each of these modules consists of the actual analyzer and the sensor electronics, including the evaluation software and required interfaces. As the first in the range, the Oxymat module measures oxygen according to the paramagnetic alternating pressure principle. The Oxymat module ensures absolute linearity and allows extremely small measuring ranges to be selected in one device: 0 to 0.5 percent with a detection limit of 50 ppm, as well as 0 to 100 and 99.5 to 100 percent.

The Siprocess GA700 basic analyzer with enclosures for rack or wall mounting can accommodate two analyzer modules. Module replacement is simple and user-friendly, and can be carried out on site without having to replace the basic device. The parameters already set for the measurement are automatically transferred from the basic device to the replacement module. The modules are temperature-controlled to permit quick and easy replacement without repeated recording of the temperature characteristic. Furthermore, they operate independently of ambient temperature variations, and thus provide highly stable measurements. The analyzer modules are suitable for ambient temperatures up to 50 degrees Celsius, have a uniform operating concept, and are equipped with a local user interface comprising display and keyboard. The high-resolution graphic display outputs the measured values in analog and digital forms. The operating software has been radically changed, with the focus on clear menu navigation and comprehensive user prompting. For example, an installation wizard is available for initial commissioning, and provides clear and explicit instructions for guidance through the process. The software is provided in 12 languages for global use. During operation, the modules signal servicing intervals, calibration requirements, or remaining lifetime of parts subject to wear, thus providing the basis for predictive maintenance concepts.

The new Oxymat module for measuring oxygen is suitable for demanding applications where high requirements exist regarding reliability and measuring quality. This is ensured by modern electronics, simple operation, and a physical unit matched to the measuring task. Corrosive gas mixtures can also be measured thanks to the use of special materials in the gas path. The detector unit does not come into contact with the sample gas, and is therefore suitable for use in harsh atmospheres while simultaneously ensuring a long service life.

An Ultramat module for measuring infrared-active gases and a Calomat module for hydrogen and noble gases are also planned.

Extractive gas analyzers are used in process plants to continuously determine the concentrations of gases. They are used, for example, for safe monitoring of process flows, for ensuring high product quality, or for the reliable determination of emissions. Different physical or electrochemical procedures are used depending on the components to be measured.

You can find this photo on the Internet at www.siemens.com/ia-picture/3118
You can find more information on the Internet at: www.siemens.com/analytics
You can find the text online on the special press event page for Achema 2012: www.siemens.com/press/achema

The Siemens Industry Sector (Erlangen, Germany) is the worldwide leading supplier of environmentally friendly production, transportation, building and lighting technologies. With end-to-end automation technology and industrial software, solid vertical-market expertise, and technology-based services, the Sector enhances its customers' productivity, efficiency, and flexibility. With a global workforce of more than 100,000 employees, the Industry Sector comprises the Divisions Industry Automation, Drive Technologies and Customer Services as well as the Business Unit Metals Technologies. For more information, visit http://www.siemens.com/industry
The Siemens Industry Automation Division (Nuremberg, Germany) supports the entire value chain of its industrial customers - from product design to production and services - with an unmatched combination of automation technology, industrial control technology, and industrial software. With its software solutions, the Division can shorten the time-to-market of new products by up to 50 percent. Industry Automation comprises five Business Units: Industrial Automation Systems, Control Components and Systems Engineering, Sensors and Communications, Siemens PLM Software, and Water Technologies. For more information, visit http://www.siemens.com/industryautomation

Contact
Mr. Gerhard Stauss
Industry Automation Division
Siemens AG
Gleiwitzerstr. 555
90475 Nuremberg
Germany
Tel: +49 (911) 895-7945
gerhard.stauss@siemens.com

---


Start Your

Free


Subscription to


Industry Market Trends

.