Product News: Electrical Equipment & Systems
Modular 2-Pole Disconnect Switches achieve 1,000 Vdc rating.
Press Release Summary: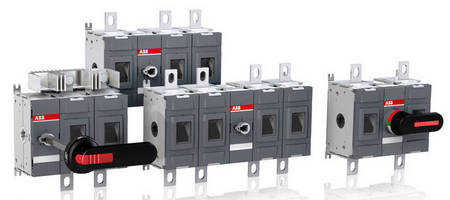 October 30, 2013 - Designed for PV applications, 1,000 Vdc OTDC switches come in 250, 320, and 400 A versions that achieve 1,000 Vdc rating per UL 98B. Dual magnetic breaking design breaks circuit in 2 places, increasing air gap while reducing time to circuit isolation. Permanent magnets pull arc into arc chutes for accelerated extinguishing. Along with integrated heat sink, features include visible contacts that promote safety and reliable quick-make, quick-break operation.
Original Press Release
ABB Extends Its Line of OTDC Switches for the Solar Market up to 400A, Offering the Smallest Footprint, Two Pole, 1000 VDC Rated Switches per UL 98B
Press release date: October 21, 2013
The breakthrough dual magnetic breaking technology delivers optimal performance, substantial energy savings, and reduced wiring costs in an efficient, compact design

NEW BERLIN, Wisc. – The ABB Low Voltage Products division has extended its line of leading OTDC switches, introducing new 250, 320 and 400 Ampere switches specifically designed for photovoltaic (solar) applications; the smallest footprint, two pole disconnect switches up to 400A in the industry to achieve a 1000 VDC rating per UL 98B.  This breakthrough dual magnetic breaking arc suppression technology delivers optimal performance with a new measure of simplicity and safety, occupying up to 50% less space while providing substantial energy savings and reduced wiring costs compared to switches currently available for solar applications.

Previously, switches for photovoltaic applications required up to six poles wired in series in order to break 1000 VDC.  Achieving the 1000 VDC rating with a compact, two pole configuration provides the ideal switch for the solar industry, designed for use in combiner-boxes for disconnecting individual arrays, and at the inverter input for disconnecting the inverter from the DC side.  UL 98B covers enclosed and dead-front switches rated up to 1000 VDC, intended for use in DC photovoltaic (PV) systems.

The dual magnetic breaking design breaks the circuit in two places, increasing the air gap while reducing the time to circuit isolation, enabling the high voltage rating with the smaller two pole footprint. Permanent magnets pull the arc into the arc chutes for quick extinguishing, ensuring breaking across the full ampacity range.

The additional features of the new 1000 VDC OTDC switch family include:
• Bi-Polarity Operation: break both the positive and negative lines at the same time or utilize pre-configured versions with two poles wired in series to break just the positive or negative line.
• Integrated Heat Sink: pre-configured versions with two poles wired in series utilize a custom-designed jumper with integrated heat sink, resulting in cooler operation and longer switch life.
• Modular Design: for the flexibility to use in diverse applications the new switch is available with the mechanism mounted between the poles or to either side of the poles. A special four pole version is available for double circuit applications, allowing the breaking of two separate PV strings with a single switch.
• Safe Visible Blade Technology: one of the only switches on the market with visible contacts, providing safe and reliable quick-make, quick-break operation.

"The solar industry has been demanding a superior performance, small footprint, two pole disconnect switch at the 1000 VDC rating in the higher amp range, and now, I am proud to say, it is available from ABB," said Egon Hillermann, ABB switches product group manager, North America.

ABB will be featuring the new 1000 VDC 250, 320 and 400A switches and a broad range of products for the solar power market at Solar Power International 2013, booth #1526, October 21-24 at McCormick Place in Chicago.

About ABB
ABB (www.abb.com) is a leader in power and automation technologies that enable utility and industry customers to improve performance while lowering environmental impact. The ABB Group of companies operates in around 100 countries and employs about 130,000 people.

About ABB Low Voltage Products
The ABB Low Voltage Products division (www.abb.us/lowvoltage) manufactures low-voltage circuit breakers, switches, control products, wiring accessories, enclosures and cable systems to protect people, installations and electronic equipment from electrical overload.

Alex Miller
262- 236-3710
alex.x.miller@us.abb.com

ABB, Inc.
Low Voltage Products
New Berlin, WI 53151
888-385-1221
www.abb.us/lowvoltage
lvps.support@us.abb.com