Product News: Electronic Components & Devices
Mini-DIN Connectors yield low PIM of -160 dBc.
Press Release Summary: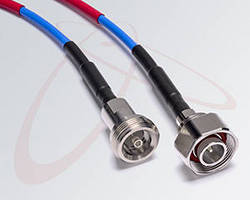 August 14, 2014 - Suited for wireless and communication applications, SRX™ 4.1/9.5 mini-DIN connectors and adapters feature RF performance through 16 GHz and yield low PIM of -160 dBc with VSWR <1.10:1 up to 7 GHz. Construction, with brass bodies and Albaloy plating, withstands use in extreme environments. In addition to being available as within-series adapters (mini-DIN to mini-DIN), products are also offered as between-series adapters with Type N, SMA, and 7/16 DIN connectors.
Original Press Release
Low-PIM Mini-DINs (4.1/9.5) Added to San-tron's Growing SRX(TM) Line
Press release date: August 12, 2014
Ipswich, MA — San-tron, Inc., a leading manufacturer of RF coaxial connectors and cable assemblies, has added high performance 4.1/9.5 mini-DIN connectors and adapters to their growing line of low-PIM SRX products. The mini-DINs feature RF performance through 16 GHz and yield low PIM of -160 dBc with VSWR < 1.10:1="" up="" to="" 7="" ghz.="" these="" new="" additions="" complement="" san-tron's="" low-pim="" srx="" toolbox="" of="">

Suited for wireless and communication applications, they meet the most critical requirements when it comes to attenuation, VSWR, and intermodulation strength, and can stand up to extreme environments due to their robust brass bodies and Albaloy plating. The mini-DINs are available as within-series adapters (mini-DIN to mini-DIN) as well as between-series adapters with Type N, SMA and 7/16 DIN connectors.

The SRX line from San-tron is an engineered suite of low-PIM cable assemblies and adapters designed to support system integrators. Several different deployment scenarios encompassing cabinet integration, short cable runs or jumper applications, long haul cable runs, indoor use, outdoor use, riser, and plenum environments, have been accommodated for and include interconnect options for SMA, N, 7/16, TNC and now the mini-DIN 4.1/9.5 mating.

To learn more and request pricing visit www.santron.com

About San-tron, Inc.
Established in 1955, San-tron designs and manufactures RF and microwave coaxial connectors and cable assemblies in a variety of standard and custom configurations from SMA through LC style. With headquarters, engineering, and manufacturing in Ipswich, Massachusetts, and a wholly-owned, off-shore facility in Suzhou, China, San-tron offers a balanced approach to meeting market demands for high quality and competitive pricing. For more details, visit www.santron.com.

Company Contact
Chris Sanders
San-tron, Inc.
chris@santron.com
978-356-1585

Agency Contact
Adam Zippin
Strand Marketing
azippin@strandmarketing.com
978-463-0780