Product News: Communication Systems & Equipment
Mini-DIN 4.1/9.5 Adapters suit wireless applications.
Press Release Summary: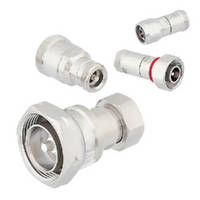 February 26, 2014 - Intended for applications requiring low passive intermodulation, Mini-DIN 4.1/9.5 Adapters offer VSWR performance of 1.25:1 up to 6 GHz. Third-order PIM is guaranteed to be less than -160 dBc using two tones at 20 W. Constructed with tri-alloy plated brass bodies and silver plated beryllium copper center contacts, adapters come in male and female combinations of between-series interfaces for each adapter type, including 4.1/9.5 mini-DIN to 7/16 DIN and 4.1/9.5 mini-DIN to Type-N.
Original Press Release
Fairview Microwave Introduces Low PIM Mini-DIN 4.1/9.5 Adapters
Press release date: February 17, 2014
Low PIM Mini-DIN 4.1/9.5 Adapters for Wireless Applications Released by Fairview Microwave

Allen, TX — Fairview Microwave, Inc. a preeminent supplier of on-demand microwave and RF components, introduces a complete line of mini-DIN 4.1/9.5 adapters intended for use in applications requiring low passive intermodulation (low PIM) performance such as cell sites or indoor/outdoor distributed antenna systems (DAS).

Mini-DIN adapters used in RF applications are similar in design to 7/16 DIN connectors, but have a more compact body and offer more precise electrical performance. Fairview Microwave's new 4.1/9.5 mini-DIN adapters offer excellent VSWR performance of 1.25:1 up to 6 GHz.  Third-order PIM is guaranteed to be less than -160 dBc using 2 tones at 20 Watts. These low PIM mini-DIN adapters are available in male and female combinations of between-series interfaces for each adapter type including 4.1/9.5 mini-DIN to 7/16 DIN and 4.1/9.5 mini-DIN to Type-N. Two non-low PIM versions are also available.

New 4.1/9.5 adapters from Fairview Microwave are constructed with tri-alloy plated brass bodies and silver plated Beryllium Copper (BeCu) center contacts, allowing low IMD and low attenuation. Additional applications of Fairview's new lines of 4.1/9.5 adapters include portable sweep testing, telecom installations, wireless infrastructure, OEM in-rack RF routing, in-building systems, and land mobile radio communications.

"This new line of low PIM mini-DIN adapters is ideal for wireless applications requiring low return loss, low IMD, and repeatable electrical performance", says Greg Arnold, Technical Sales Manager at Fairview Microwave. "The high quality construction and tri-alloy plating help reduce nonlinearities that can cause distortion in critical communications equipment."

Fairview Microwave's new mini-DIN 4.1/9.5 adapters are in-stock and available now. You can view these new products by visiting http://www.fairviewmicrowave.com/rf-products/low-pim-mini-din-4.19.5-adapters.html directly.  For additional information, Fairview can be contacted at +1-972-649-6678.

About Fairview Microwave
A leading supplier of on-demand RF and microwave products since 1992, Fairview Microwave offers immediate delivery of RF components including attenuators, adapters, coaxial cable assemblies, connectors, terminations and much more. All products are shipped same-day from the company's ISO 9001:2008 certified production facilities in Allen, Texas.

Press Contact:
Greg Arnold
Fairview Microwave
17802 Fitch
Irvine, CA 92614
(949) 261-1920

Shaun Gameroz
Marketing Manager
Fairview Microwave
(O) 972-649-6678 | (F) 972-649-6689
1130 Junction Dr. #100 | Allen, TX 75013
shaun@fairviewmicrowave.com
www.fairviewmicrowave.com