Product News: Vision Systems, Optics & Photonics
Mini Aerostat suits close-range ISR missions.
Press Release Summary: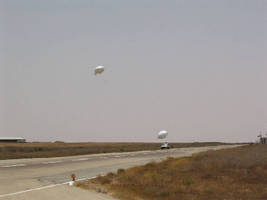 June 20, 2014 - Lightweight and portable, SkyStar 100 System can be tied to pick-up truck or carried in back-packs. Within 15 minutes, it can be raised in air for over-the-hill visibility. Suitable for tactical forces, system can be transported, assembled, launched, and operated by 2 fighters following minimal training. SkyStar 100 can accommodate variety of payloads, including cameras and communications devices.
Original Press Release
Eurosatory 2014: RT Introduces the SkyStar 100 Mini Aerostat
Press release date: June 15, 2014
Compact, Portable and Rapidly Deployed, the system was specially designed for close-range ISR missions

The Company will also present its SkyStar 180 System, selected for evaluation by the US Army for its Army Expeditionary Warrior Experiment (AEWE)

RT LTA Systems Ltd. - a world-class designer, developer, and manufacturer of the SkyStar™ family of aerostats for use in intelligence, surveillance, reconnaissance, and communications applications - introduces the SkyStar 100 mini aerostat for the first time at Eurosatory, taking place in Paris June 16-20, at the Israel National Pavilion, Hall 6, Stand 757. Compact, portable, and rapidly deployed, the system was specially designed for close-range ISR missions.

The SkyStar 100 System is a mini aerostat system for close surveillance and reconnaissance missions. It is a very compact, lightweight, and portable system that can be tied to a pick-up truck or carried by two soldiers in their back-packs. Within 15 minutes, it can be raised in the air for over-the-hill visibility. The system is ideal for tactical forces and can be transported, assembled, launched and operated by two fighters following minimal training. Fully customizable, it can accommodate a variety of payloads, such as cameras, communication devices, etc. Exceptionally cost-effective, the system allows soldiers to focus on a particular range and specific point in the field.

RT will also present its SkyStar 180 - a small size, mobile aerostat designed for tactical mid-range surveillance and public safety, police, and military applications. Based on a towable trailer, the system has a stabilized day/night electro-optical payload suspended from a helium filled aerostat, tethered to a ground system. It operates continuously at wind velocity of up to 40 knots, and can lift a payload of up to 20 kg, providing surveillance coverage from an altitude of up to 1,000 ft. for up to 72 hours, after which it is brought down for a 30-minute helium refill. Only 2 people are required to fully maintain the system.

According to Rami Shmueli, Managing Director of RT, "We are pleased to debut the SkyStar 100 at Eurosatory 2014. This is the company's most compact system, offering a very high level of mobility. Developed for tactical, pinpoint missions, it acts as the eyes of the soldiers in the field, thus helping to safeguard their lives and contributing to mission success."

He continued, "The selection of the SkyStar 180 for evaluation by the US Army is evidence of the system's quality and its high-level technological capabilities, and we believe it will lead to the purchase of these systems by the US Army. RT's systems are in use around the world, and their advantage is the ease of use and rapid deployment. We invite everyone to visit our stand, and to learn more about our solutions."

About RT LTA Systems Ltd.
RT LTA Systems Ltd. is a world-class designer, developer, and manufacturer of the SkyStar™ family of aerostats for use in intelligence, surveillance, reconnaissance, and communications applications. SkyStar™ is a self-contained, versatile, easily transportable, cost-effective tactical system comprised of a ground control station, a ground system module, a tether, a lighter-than-air platform, a stabilized payload platform, and a sensor suite. RT's products are protected by patents. SkyStar systems are operational worldwide in various military and civilian missions. Currently, systems are deployed in countries such as Afghanistan, Israel, Mexico, Thailand, Canada, Russia, and various countries in Africa.

Contact Information:
Taly Kosberg Shmueli -VP
Email: rami@rt.co.il
Tel: +972-8-9433616