Product News: Electrical Equipment & Systems
Mil/COTS Modular Power Supply delivers 1,000 W at -40°C.
Press Release Summary: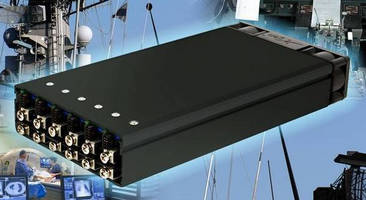 July 30, 2014 - Designed for use in harsh operating environments that do not require -55°C operation, XFN powerPac is conformal-coated to withstand shock and vibration to MIL-STD-810G; carries full safety agency approvals, including UL 606950; and is EMC characterized to MIL-STD-461F. Package measures 1U x 268 mm x 127 mm. Featuring plug-and-play architecture, series accommodates up to 6 Excelsys powerMod output modules and features 47–440 Hz input frequency and 1.5–58 V standard output voltages.
Original Press Release
Excelsys XFN Mil/COTS Supply Delivers 1,000 Watts at -40C
Press release date: July 24, 2014
New XFN model in the XF series satisfies customer demand for rugged performance without over-specifying low-temperature limits; plug-and-play powerMod outputs facilitate configuration

Rockwell, TX — Excelsys Technologies, the global market leader in high-efficiency, user-configurable power supplies, announces the availability of a new powerPac model in its popular XF series of high-reliability, ruggedized Mil/COTS modular power supplies. The new XFN powerPac is designed to deliver 1000W at -40°C, therefore complementing the other products in the XF series that operate to -55°C. Designed for use in harsh operating environments that do not require -55C operation, the XFN powerPac is conformal-coated to withstand extremes in shock and vibration to MIL-STD-810G levels. It also carries full safety agency approvals including UL 606950 and is EMC characterized to MIL-STD-461F.

The XFN powerPac broadens Excelsys full line of XF power supplies that provide up to 1000 W of power in a compact, 1U x 268 mm x127 mm package. Employing an innovative plug-and-play architecture, XF power supplies accommodate up to six Excelsys powerMod output modules, which allow users to rapidly configure a custom power solution. Standard features in the series include 47-440Hz input frequency, 1.5 V to 58 V standard output voltages, and individual output control. They are completely field-configurable with an option to factory fix. All outputs are fully floating to allow for series/parallel connection of multiple outputs for non-standard voltages or for higher-output-current paralleling of powerPacs for increased system power and efficiency. All models feature overvoltage, over temperature and overcurrent protection, provide a 5V/250mA bias standby voltage, individual output control of every output module, a market-leading five-year warranty and are SEMI F47 compliant.

"The new XFN powerPac model extends our already very successful XF family of configurable, ruggedized power supplies so that designers have the flexibility to select the most appropriate model for their requirements without over-specifying," says John Stevenson, VP North America, Excelsys. "Our XF family provides a single solution for complying with the vast majority of harsh environment Hi-Rel/COTS power requirements as well as a simple approach for users who need to configure for non-standard output voltages."

Typical Pricing: Prices for configured units range from $549.00 to $778.00 in OEM quantities.
Delivery: In-stock via distributor network

About Excelsys
Excelsys Technologies Ltd. is a modern and progressive power supply company providing quality products to OEM equipment manufacturers around the world. Excelsys has achieved its world-class standing by combining the latest technology, management methods and total customer service philosophy with a 20-year tradition of reliable and innovative switch mode power supply design, manufacture and sales.

Agency Contact
WelComm, Inc.
Greg Evans
Account Executive
(858) 633-911
greg@welcomm.com
www.welcomm.com

Client Contact
John Stevenson
VP, North American Sales
Excelsys Technologies Ltd.
Direct: (972) 771-4544
johnstevenson@excelsys.com
www.excelsys.com