Product News: Computer Hardware & Peripherals, Electronic Components & Devices
Micro USB Connectors feature long leads for thick PCBs.
Press Release Summary: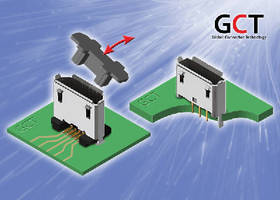 March 21, 2014 - Providing .090 in. leads for .062 in. PCB thickness, USB3106 B Type and USB3131 A/B Type Connectors feature through-hole, vertical design suitable for applications where horizontal connectors do not meet customer requirements. Typical applications include smart watches, electronics bracelets, sports headgear, consumer electronics, wearable electronics, robotics, and home automation.
Global Connector Technology, Inc
Original Press Release
Global Connector Technology Introduces Vertical Micro USB Connectors with Longer Leads for Thicker PCBS
Press release date: March 13, 2014
Global Connector Technology (GCT) has recently introduced thru hole A/B type Micro USB connectors with .090" leads suitable for .062" PCB thickness. Building on the popularity of the existing range the connectors were developed for customers using thicker PCB's who found the .059" shell stake and lead length too short for .062" thick printed circuit boards.  Utilising all of its engineering skills and in response to this challenge GCT developed USB3106 B type & USB3131 A/B type with .090" leads and stakes, perfect for use in applications with thicker PCB's.

GCT's vertical USB range is now the broadest in the market, with numerous design options, including SMT and thru hole, variable lead and shell stake lengths and optional extra stability mounting types. Vertical micro USB is chosen in designs where horizontal connectors don't meet customer's design requirements; examples of diverse applications are smart watches, electronics bracelets, sports headgear, consumer electronics, wearable electronics, robotics and home automation.

To speed up design downloadable drawings, 3D models and specifications are available from the GCT website.  All parts are in stock in your local GCT office and available through distribution channels for next day sampling. 

Call today to discuss design requirements, or visit www.gct.co to see why GCT should be the supplier of choice for USB connectors.

About Global Connector Technology
Global Connector Technology (www.gct.co) is headquartered in Hong Kong and has sales and support locations in Hong Kong, North America and Europe. Part of a privately held group of companies, GCT has manufacturing locations in mainland China and a dedicated engineering team based in Hong Kong. GCT is enjoying rapid growth with its focus on expanding markets including handheld devices, computing, industrial, security, medical and consumer. GCT is an ISO9001 approved organization and its products are fully RoHS and Reach compliant.

GCT USA Contact details:
Global Connector Technology, Inc.
354 Merrimack Street
Building 1, Suite 262 
Lawrence, MA 01843
Tel: +1 978 2081618
E-mail: sales@gct-americas.com
Web: www.gct.co