Product News: Controls & Controllers, Electronic Components & Devices
Micro-Stepping Motor Controllers feature single-chip design.
Press Release Summary: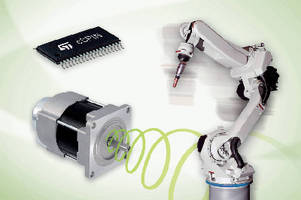 November 26, 2012 - Intended for precision automation equipment, cSPIN Motor Controllers include Model L6480, which supports micro-stepping operation up to 1/128 steps resolution, and Model L6482, featuring predictive control algorithm and auto-adaptive decay mode. Communication with main system uses high-level commands via standard 5 Mbps SPI. On-chip gate-driver circuitry, for motor's power stage, can operate from 8–85 V, which allows applications to scale smoothly over power range up to 300 W.
Original Press Release
Quieter, Smaller Precision Automation Equipment Possible Using World-First Single-Chip Motor Controller from STMicroelectronics
Press release date: November 12, 2012
Innovative stepper motor controller simplifies design, beats performance of traditional multi-chip solutions

Geneva,  – Precision movement and positioning systems used in industries such as automated manufacturing and pharmaceutical production can be quieter, smaller, lighter, simpler and more efficient using the advanced single-chip digital motion controllers announced today by STMicroelectronics (NYSE: STM), a global semiconductor leader serving customers across the spectrum of electronics applications and the world's number one supplier of standard ICs for industrial applications.

ST is already working with key customers to design its new cSPIN controllers into precision equipment such as robotic systems and industrial automation, stage lighting, security cameras, camera focusing mechanisms, sewing machines, and general positioning and rotation equipment. In each case the small size and low weight of the cSPIN solution enables lower-cost and more responsive equipment compared to using a conventional multi-chip drive. This helps improve overall system efficiency by eliminating the need for shunt resistors, thereby reducing unwanted power dissipation.

cSPIN also allows precise control over rotation speed, which is particularly important for repeatable, accurate mixing of liquids in applications such as handling of medical samples. For all applications, the smooth and noiseless operation delivers advantages for users, especially in quiet environments such as laboratories or on hospital premises.

As the world's first devices of their type, cSPIN micro-stepping controllers for 2-phase stepper motors provide several technical advantages over existing alternatives. Communication with the main system uses high-level commands via a standard Serial Peripheral Interface (SPI). The on-chip gate-driver circuitry, for the motor's power stage, can operate from 8 V to 85 V, which allows applications to scale smoothly over a wide power range up to 300 W. ST's digital motion engine is optimized to overcome known challenges such as avoiding resonance to ensure exceptionally smooth and quiet motor operation.

ST's cSPIN family requires no motor-control software and simplifies system design by performing all calculation, control and interfacing functions in a single chip. Competing solutions require software and multiple discrete chips, which designers must combine before starting to develop their applications. With cSPIN, projects can begin using an ST evaluation board containing the control IC, which can be connected immediately to a stepper motor enabling rapid prototyping.

Major features of cSPIN controllers:
• Digital motion engine, gate driver and SPI interface on one chip
• Programmable speed control and positioning
• Integrated protection mechanisms: over-temperature, low bus voltage, over-current, motor-stall
• 5 Mbit/s SPI interface
• Fully programmable gate driving
• Innovative voltage mode control with internal BEMF compensation (L6480)
• Advanced predictive current control with auto-adaptive decay mode (L6482)
• Low standby current

The two cSPIN ICs revealed today are the L6480, which supports micro-stepping operation at up to 1/128 steps resolution, and the L6482 featuring the predictive control algorithm and the auto-adaptive decay mode.
The devices are now ready to enter volume production priced at $3.00 in quantities of 1,000 units.

About STMicroelectronics
ST is a global leader in the semiconductor market serving customers across the spectrum of sense and power technologies and multimedia convergence applications. From energy management and savings to trust and data security, from healthcare and wellness to smart consumer devices, in the home, car and office, at work and at play, ST is found everywhere microelectronics make a positive and innovative contribution to people's life. By getting more from technology to get more from life, ST stands for life.augmented.

In 2011, the Company's net revenues were $9.73 billion. Further information on ST can be found at www.st.com.

For Press Information Contact:
STMicroelectronics
Michael Markowitz
Director Technical Media Relations
+1 781 591 0354
michael.markowitz@st.com