Product News: Electrical Equipment & Systems, Electronic Components & Devices
Mezzanine Connector handles up to 1.6 A per contact.
Press Release Summary: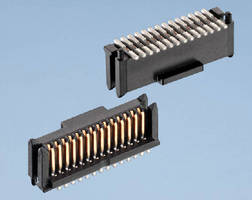 October 19, 2012 - Featuring hermaphroditic design that combines male and female connector halves, MicroStac® Connector incorporates 2 points of contact for applications where shock and vibration are encountered. Available in 5 mm stack height, unit offers mis-mating tolerance up to 0.7 mm of side-to-side float and ±4° of angular misalignment between connector halves and their respective PCBs. Contact design provides up to 1.5 mm of wipe length, for use in applications requiring up to 6 mm stack height.
Original Press Release
Ultra-Reliable Mezzanine Connector Offers a High Mis-Mating Tolerance, Low Tolerance Stack-up
Press release date: October 11, 2012
ERNI's MicroStac® Mezzanine Connector Delivers Design Flexibility in a Compact Size

RICHMOND, VA  – ERNI, a leading supplier of connectors and value added services, has developed a mezzanine connector with a hermaphroditic design that combines male and female connector halves into one solution to reduce inventory cost. The MicroStac® connector's unique contact design incorporates two points of contact for high reliability in applications where shock and vibration are encountered.  As a result of the secure and robust mating interface, the MicroStac mezzanine connector can handle up to 1.6 Amp per contact.

Available in a 5mm stack height, the MicroStac mezzanine connector offers a high mis-mating tolerance of up to 0.7mm of side-to-side 'float' and ±4° of angular misalignment between the two connector halves and their respective printed circuit boards. This latitude allows multiple connectors to be placed between boards without concern of misalignment due to tolerance stack-up. This also provides design engineers with maximum flexibility to place the connectors where needed for the most efficient PCB routing. The contact design provides up to 1.5mm of wipe length, for use in applications requiring up to 6mm stack height. Guides molded into the connector body improve ease of mating.

"The MicroStac connector system not only offers exceptional flexibility in a compact design, but also cost and time savings. Instead of requiring a male and female connector to create a mated pair, the MicroStac's hermaphroditic design enables the connectors to mate with themselves. This means only one part number is required for each mated pair, resulting in both reduced inventory cost and supply chain complexity," said Sean Riley, director sales and marketing at ERNI.

For easy, error-free, board placement and processing, the MicroStac connector's body incorporates an integrated vacuum pickup point, as well as board locating pegs. Tape and reel packaging further enhances high-speed placement on the PCB. Instead of stamping and bending contacts for SMT termination, ERNI's leads are formed in the stamping die. This process provides guaranteed coplanarity of 0.1mm and virtually eliminates processing defects with a termination lead that's easily inspected. In addition, the contacts are designed to consume as much area as possible under the connector body, maximizing board retention for reliable service in almost any application.

MicroStac connectors are available in 6, 10, 12, 14, 50, and 54 positions with a 5mm stack height.  Typical pricing starts at $.93 for a 6-position connector with a lead time of 8 weeks.

For more information, visit www.erni.com; email info@erni.com; or call 804-228-4100.

About ERNI
ERNI Electronics is a leading global manufacturer and worldwide supplier of a broad line of interconnects for the telecommunications, data communications, computer, industrial and medical markets. ERNI Electronics GmbH belongs to the international ERNI Group of companies specializing in electrical engineering and electronics. At present the ERNI Group employs some 650 people, achieving annual sales of around 150 million Euros. ERNI has manufacturing operations in Europe as well as sales offices in over 40 countries. ERNI products are also marketed via a worldwide network of representatives and leading distributors.

Editor Contact Information:
Sean Riley
Director Sales and Marketing
804-228-4108
sean.riley@erni.us