Medical Software enhances ultrasound simulation and training.
Press Release Summary: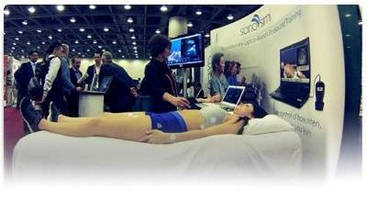 February 20, 2014 - By instantly transforming live volunteers and mannequins into ultrasound training cases with pathologic conditions derived from real patients, SonoSim® LiveScan™ brings realism to ultrasound training. Combined with SonoSim Ultrasound Training Solution, which integrates didactic content and knowledge assessment, SonoSim LiveScan provides optimized training experience that enables anytime, anywhere bedside ultrasound simulation.
Original Press Release
SonoSim LiveScan(TM) Brings Medical Simulation to Life
Press release date: February 12, 2014
SonoSim® takes ultrasound simulation and training to the next level

SANTA MONICA, Calif. -- SonoSim, Inc., developer of the SonoSim® Ultrasound Training Solution, established a new standard in medical simulation with its unveiling of SonoSim LiveScan(TM) at the 2014 annual International Meeting on Simulation in Healthcare (IMSH) in San Francisco, CA.  SonoSim LiveScan(TM) brought never before seen realism to ultrasound training by instantly transforming live volunteers and mannequins into ultrasound training cases with real pathologic conditions. Serving as the world's leading convention on simulation in healthcare, the IMSH conference connects prominent industry experts, academic institutions and companies with the collective goal of advancing simulation in healthcare.

"The 2014 IMSH conference served as the perfect venue to introduce our highly-anticipated SonoSim LiveScan(TM), and it truly impressed. Whereas ultrasound simulation has traditionally been reliant upon inanimate mannequins that use computer animation, SonoSim's LiveScan(TM) was demonstrated on a live female model that showcased pathology derived from real patients," said Dr. Dan Katz, Vice President of SonoSim. "In fact, some conference attendees left convinced that our normal, healthy model truly had a left ventricular thrombus and a twin pregnancy!"

SonoSim LiveScan(TM) ushers in a new era in ultrasound simulation by enabling users to seamlessly transform live volunteers and training mannequins into a wide range of ultrasound training cases with real pathologic conditions. Combined with the SonoSim® Ultrasound Training Solution, which integrates didactic content and knowledge assessment, SonoSim LiveScan(TM) provides an unparalleled training experience that makes anytime-anywhere bedside ultrasound simulation possible.

SonoSim develops and markets state-of-the-art ultrasound training for physicians, nurses, students and careproviders of all backgrounds who need to continually expand and improve their ultrasound skills. The company has a foundation of intellectual property that has enabled creation of an easy-to-use, affordable, and portable ultrasound education and training solution. The company's products allow learners to take control of how, when, and where they learn.

Related Links:
www.sonosim.com -  SonoSim Website
http://www.sonosim.com/landing/sonosim-livescan -   LiveScan(TM) Product Page

Multimedia Assets associated with this release:
Video: http://origin-qps.onstreammedia.com/origin/multivu_archive/PRNA/ENR/FX-MM63595-20140212-1.mp4

CONTACT:
Dan Katz, MD
VP Sales & Product Development
SonoSim, Inc.
(323) 473-3800
Email: info@sonosim.com