Product News: Test & Measuring Instruments, Sensors, Monitors & Transducers
Materials Testing Machine measures tensile strength and more.
Press Release Summary: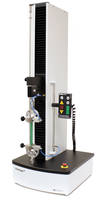 August 27, 2014 - Available in 1 and 2 kN capacities, VantageNX has ergonomic frame and offers 3 travel distances from 24–48 in. Machine supports operation via either MAP-4 Software, which requires Windows®-based PC, or stand-alone, Bluetooth®-connected, touchscreen tablet. Ability to be configured for different standards using different grips and fixtures maintains flexibility of universal frame. Among others, capabilities cover tensile, compression, flexural strength, and peel strength measurement.
Original Press Release
New Materials Testing Machine Frame from Thwing-Albert.
Press release date: August 21, 2014
West Berlin, NJ – Thwing-Albert Instrument Company has released a new Tensile Testing Machine Design, the VantageNX. This revamps the popular EJA Vantage Series to introduce a new ergonomic frame. The new VantageNX is available in capacities of 1kN and 2kN, and will replace the previous frame for those capacities.

Three travel distances from 24" to 48" are available to meet different materials testing needs. The customer has the option to choose between two different methods of operation; MAP-4 Software which requires a Windows based PC or the recently introduced standalone option a Bluetooth connected touch screen tablet.

The VantageNX maintains the flexibility of a universal frame by allowing the testing machine to be configured for many different standards using different grips and fixtures. This new Universal Testing Machine from Thwing-Albert can be used to measure tensile, compression, flexural strength, and peel strength along with many other tests to meet common industry standards including ASTM, ISO, TAPPI, and others.

Thwing-Albert is excited to introduce the revamped style to customers. The VantageNX is designed to keep materials testing laboratories looking sharp while maintaining efficiency and quality. This new testing frame is a prime example of the company's ongoing commitment to customer satisfaction, by staying ahead of the curve and providing options to improve productivity.

Please contact our office if you are interested in more details about the VantageNX at sales@thwingalbert.com or 856-767-1000.

About the Thwing-Albert Instrument Company
The Thwing-Albert Instrument Company is one of the nation's leading manufacturers of advanced testing instrumentation. For more than a century, Thwing-Albert has provided proven testing equipment and has earned a reputation as a foremost authority on physical testing standards. From the tab on a cough tablet, to the seal on a bag of potato chips, to the fabric of a pair of jeans, Thwing-Albert designs and develops products that test the physical properties of a wide range of materials. Research laboratories and quality control departments worldwide confidently rely on Thwing-Albert's affordable precision instruments to develop and produce high quality products.

Contact: Brenda Fisher at (856) 767-1000 or visit www.thwingalbert.com