Product News: Vision Systems
Machine Vision Camera supports USB 3.0 data transfer speeds.
Press Release Summary: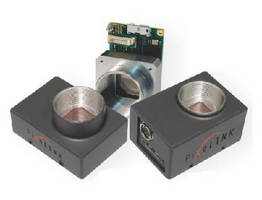 April 29, 2014 - Intended for industrial and OEM customers, Titan PL-D7715 combines benefits of high resolution CMOS technology with high-speed data throughput of USB 3.0. Unit features 15 megapixel resolution imager capable of 13 fps at full resolution. Based on Aptina CMOS Rolling shutting sensor with 1 / 2.2 in. optical format, camera gives user choice of 8-bit or 12-bit digitization and provides dynamic range of 65.3 dB in 12-bit mode.
Original Press Release
PixeLINK Expands USB 3.0 Camera Family
Press release date: April 22, 2014
New Titan cameras offer higher resolution USB 3.0 camera options to industrial and OEM customers.

OTTAWA, Canada -- PixeLINK®, a global provider of industrial cameras for the machine vision and microscopy markets, today announced the release of its Titan USB 3.0 CMOS camera line. Complementing the company's existing custom USB 3.0 cameras, PixeLINK's newest machine vision cameras offer higher resolutions while ensuring fast image delivery.

"With the addition of the Titan line we are able to offer both off-the-shelf and custom USB 3.0 cameras with resolutions of up to 15 megapixels," explains William Lesniowski, CEO of PixeLINK. "Our newest cameras maintain the quality and reliability that our customers have come to expect from PixeLINK. They are ideal for OEMs and organizations looking to leverage the fast data transfer speeds of USB 3.0 to obtain high quality and high resolution images."

Titan Camera Line

Providing a resolution of 15 megapixels, the Titan PL-D7715 USB 3.0 Global Shutter CMOS camera combines the benefits of high resolution CMOS technology with the high-speed data throughput of USB 3.0.

As with all PixeLINK cameras, Titan cameras can be combined with the acclaimed PixeLINK Software Developer's Kit (SDK) to streamline and simplify the integration of the camera into machine vision applications.

PixeLINK's new Titan USB cameras are available directly from PixeLINK or from its network of certified channel partners. Contact PixeLINK at +1 (613) 247-1211 or visit the PixeLINK website at http://pixelink.com/products/usb3.aspx for further details.

About PixeLINK
PixeLINK is a global provider of custom industrial cameras for the machine vision and OEM markets.  For more than 20 years, PixeLINK has designed, manufactured, and supported the hardware and software requirements for the medical, inspection, and security markets.  Through its custom camera design services, PixeLINK offers reliable precision camera hardware and industry-leading software that simplifies the integration of cameras into any machine vision application. www.pixelink.com

Contact Information

Sales

The Americas
Michelle Rogers
Email
613-247-1211 x250

International
William Lesniowski
Email
613-247-1211 x207

Customer Support
Support@pixelink.com
613-247-1211 x242