Product News: Electrical Equipment & Systems
M12 Cordsets feature spark-resistant PUR cable.
Press Release Summary: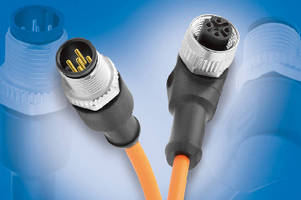 April 28, 2014 - Suited for robot welding lines in automation industry, standard M12 A-coded cordsets have 3, 4, and 5 gold-plated contacts with rated current of 4 A each. Maximum voltage ranges from 125–250 V based on number of contacts. When fully mated, cables are rated IP67 to ensure protection from liquids and debris. UL-approved 22 AWG cables, available in black and orange with 2 or 5 m lengths, have PUR jacket material for flexibility as well as resistance to sparks, wear, and impacts.
Original Press Release
M12 Cordset with Welding Spark Resistant PUR Cable
Press release date: April 15, 2014
Camarillo, CA — Binder-USA is pleased to announce the addition of spark resistant PUR cables to the M12 cordset line up. The robust PUR cable ensures a resistance to sparks, wear, impact and flexibility. The new M12 A-coded cordsets are ideally suited for robot welding lines in the automation industry.

Standard versions have 3, 4, and 5 gold-plated contacts with a rated current of 4A each. A maximum rated voltage ranges from 125V-250V based on the number of contacts. When fully mated the cables are rated IP67 to ensure protection from liquids and debris.

The UL approved cables are available in black and orange with the option of 2m or 5m lengths. The standard cable has a wire gauge of 22AWG with a PUR jacket material. Additionally, mating panel-mount receptacles with various terminations styles are available for a complete connecting system.

For more information on Binder M12 spark resistant connectors, visit www.binder-usa.com or contact Binder-USA, 3903 Calle Tecate, Camarillo, CA 93012, e-mail: sales@binder-usa.com, telephone: 1-805-437-9925, fax: 1-805-504-9656.

About Binder-USA
Binder-USA, LP is a subsidiary of Franz Binder GmbH & Co., a German-based designer and manufacturer of circular connectors and cordsets for use in industrial environments including factory automation, process control, and medical technology applications.

For more information on this press release visit:
http://www.binder-usa.com/news/show/m12-cordset-with-welding-spark-resistant-pur-cable

Contact Sales
Tel:  805.437.9925
Fax:  805.383.1150
Email:  sales@binder-usa.com