Product News: Material Handling & Storage, Packaging Equipment
Loose Fill Bag meets sustainability requirements.
Press Release Summary: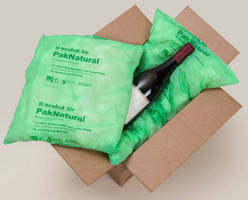 June 13, 2013 - Intended for cushioning and void-fill shipping applications, PakNatural® Biodegradable Cushion Bag encases Sealed Air's PakNatural loose fill solution within protective film made from biodegradable, compostable, and renewable material. Resulting bags exhibit non-abrasive properties, and no equipment is necessary. Available in 3 sizes, protective packaging solution suits operations that desire biodegradable and compostable materials and prefer self-contained packaging solutions.
Original Press Release
New Sealed Air PakNatural®Loose Fill Solution Has Sustainability in the Bag
Press release date: June 6, 2013
Sealed Air Develops Biodegradable Cushion Bag Made from Renewable Materials

ELMWOOD PARK, N.J. — Sealed Air today introduced the PakNatural® Biodegradable Cushion Bag, a protective packaging solution for cushioning and void-fill shipping applications, which meetssustainability requirements for performance, cost competitiveness and environmental responsibility.

The new packaging innovation encases Sealed Air's PakNatural®loose fill solution within a protective film also made from certified biodegradable, compostable and renewable material. The resulting bags retain the superior non-abrasive properties of Sealed Air's PakNatural® loose fill solution, making them ideal for protecting electronics, books, glass items and collectibles.

"This solution truly is unique to our market," said Mark Bourke, Sealed Air sales development manager for PakNatural®. "All elements of the PakNatural®Biodegradable Cushion Bag are renewable, biodegradable and compostable. It's another great example of Sealed Air's SmartLife™commitment to sustainability through efficient packaging solutions that provide product protection while reducing costs and environmental impact through the entire supply chain."

Available in three different sizes, the PakNatural® Biodegradable Cushion Bag is an attractive consideration for operations that desire biodegradable and compostable materials and that prefer self-contained packaging solutions over traditional loose-fill formats. No equipment is necessary with the new PakNatural® Biodegradable Cushion Bag, enabling customers to easily incorporate the solution directly into centralized or decentralized packaging operations.

Additionally, the PakNatural®Biodegradable Cushion Bag is certified as biodegradable and compostable by three independent international organizations – The Biodegradable Products Institute (BPI), the German certification organization DIN CERTCO and the Belgium-based independent testing and research organization Vincotte.

The PakNatural® Biodegradable Cushion Bag is currently available in select regions. To learn more about the PakNatural® Biodegradable Cushion Bag, please call 1-800-648-9093 or visit www.paknatural.com/cushionbag.

About Sealed Air
Sealed Air is a global leader in food safety and security, facility hygiene and product protection. With widely recognized and inventive brands such as Bubble Wrap® brand cushioning, Cryovac® brand food packaging solutions and Diversey™ brand cleaning and hygiene solutions, Sealed Air offers efficient and sustainable solutions that create business value for customers, enhance the quality of life for consumers and provide a cleaner and healthier environment for future generations. Sealed Air generated revenue of approximately $7.6 billion in 2012, and has approximately 25,000 employees who serve customers in 175 countries. To learn more, visit www.sealedair.com.

Jamie Cwalinski
Account Executive
MSL Atlanta
a: 1170 Peachtree Street NE, Atlanta Georgia, 30309 United States
o: 1-404-877-5534 | f: | m: 404-664-2092
e: jamie.cwalinski@mslgroup.com
w: mslgroup.com