Product News: Electrical Equipment & Systems
Long Range Bike Light uses hybrid technology.
Press Release Summary: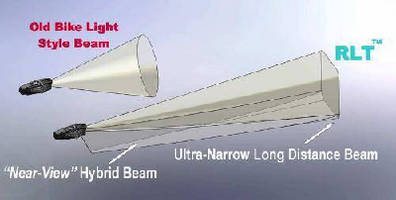 June 10, 2014 - Based on LED RLT™ technology, Hybrid-RLT Bicycle Light combines precision focused long distance beam that meets ANSI FL1 standard with near view feature that redirects part of total light directly to road in front of rider. Most of LED light is transformed by recycling LED reflector into narrow, long distance beam that is precise and clean, with no halo effect. This is particularly beneficial in moist atmosphere environments because back scattered and reflected light is reduced.
Original Press Release
Wavien Introduces Hybrid- RLT(TM) Long Range Bike Light
Press release date: June 2, 2014
Ultra-long ANSI FL1 beam distance using patented RLT technology for brighter LEDs, is combined with a "near-view" hybrid feature allowing for improving "visual dexterity" directly downward from the bike light

VALENCIA, Calif. -- Wavien, Inc., a company that has been specializing in the invention of brightness enhancement optical platforms, has announced the latest advancement on their patented LED RLT(TM) technology.  Wavien is introducing a new Hybrid-RLT bicycle light concept that combines a unique precision focused long distance beam with a near view feature that redirects part of the total light directly down to the road in front of the rider.  This hybrid combination allows for greater functionality as the rider achieves improved total illumination of the landscape or road ahead.  Most of the LED light is transformed by the recycling LED reflector into a narrow, long distance beam that is precise and clean, with no halo effect.  This is particularly beneficial in moist atmosphere environments because back scattered and reflected light is reduced.

"RLT is Wavien's Recycling Light Technology, which uses a compact, low-cost, and simple component that increases useable light output of conventional LED's by over 2 times, through collecting high angle LED generated light, that would be otherwise wasted in conventional illumination systems, and redirecting it into a more compact, useful, and brighter beam.  Additionally, the increased LED light output from the RLT reflector requires no additional power and does not change the LED lifetime," stated Dr. Kenneth Li, President and CEO of Wavien, Inc., who is also the inventor of the RLT technology.  "Wavien is very pleased that our RLT technology is now entering into more consumer markets.  Increasingly, the Wavien RLT technology is changing the ways that consumers use LED light as the technology combines new levels of brightness without needing extra power to do so."  Wavien is actively pursuing licensing partners in the bicycling accessories and outdoor sports areas to move the Hybrid-RLT(TM) to a broader consumer segment.

About Wavien, Inc.
Wavien, based in Valencia, California, is a technology licensing company developing long-life, advanced high-performance light source solutions using arc lamps, LEDs, lasers, laser/phosphor hybrids, and plasma lamps, for the next generation of projection and consumer lighting industries.  Wavien continues to make major advancements in the LED illumination market with its recycling RLT technology.

RLT(TM) is a registered trademark of Wavien®, Inc.

For more information, please visit http://www.wavien.com

Media Contact:
Harry Farrar
661-294-2900 ext. 210