Product News: Test & Measuring Instruments
Load Cell Meter delivers high-speed readings via Ethernet/Internet.
Press Release Summary: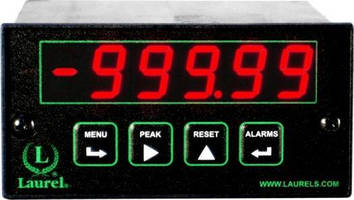 May 22, 2014 - Laureate Model WM, Ethernet version, is high-sensitivity digital panel meter and controller for load cells, strain gauges, and microvolt signals. Ethernet connectivity is provided by Ethernet interface board, which plugs into host 1/8 DIN digital panel meter, and 10/100Base-T Ethernet interface is via RJ45 connector. As DC microvolt meter, unit provides sensitivity down to 20 mV FS with 1 µV resolution, and accuracy is 0.01% FS ±2 counts at rates up to 60/sec.
Original Press Release
Load Cell Meter Delivers High Speed Readings over Ethernet or Internet
Press release date: May 21, 2014
Costa Mesa, CA – Laurel Electronics, Inc. announces the Ethernet version of its Laureate Model WM, a high-sensitivity digital panel meter and controller for load cells, strain gauges and microvolt signals where high sensitivity, high accuracy and high read rates are required.

Ethernet connectivity is provided by an Ethernet interface board which plugs into the host 1/8 DIN digital panel meter. A 10/100Base-T Ethernet interface is via an industry-standard RJ45 connector. Multiple meters, each with its own Ethernet cable, can be connected to a local area network (LAN) or to the Internet via a router, or directly to a host computer via an Ethernet cable.

LAN and Internet connectivity are supported in software so that the meter can be read and set up remotely. Node Manager Software shipped on a mini CD is used for discovery and setup of Laurel Nodes on a local area network. Web server software is also built into each Node and can be used to discover and configure Laurel Nodes over the Internet. Datalogging over the Internet is provided by Laurel's XLog datalogging software.

Read rates at up to 60 or 50 conversions per second while integrating the signal over a full power cycle are provided by concurrent slope analog-to-digital conversion. Such high read rates are ideal for peak or valley capture, alarm, real-time control, analog output, and computer interface.

When used as a load cell meter, the Laureate WM can power up to four 350-ohm load cells in parallel using a built-in, isolated 10 Vdc, 120 mA excitation supply. Connection to a bridge can be via 4 or 6 wires. With 4-wire hookup, the meter operates in a ratiometric mode to eliminate errors due to supply variations. With 6-wire hookup, it also compensates for variations in transducer lead resistance, thereby allowing long cable runs in changing temperature environments.

When used as DC microvolt meter, the Laureate WM provides sensitivity down to 20 mV full scale with 1 µV resolution. Accuracy is 0.01% of full scale ±2 counts at rates up to 60/sec.

The Laureate WM can be scaled for direct readout in engineering units, such as pounds, kilograms or PSI. Scaling can be via front panel pushbuttons or Windows-based setup software. Zero may be set from -99,999 to +99,999, and range may be scaled from 0 to ±99,999.

Options include dual 8A relays for alarm or control, an isolated 4-20 mA, 0-20 mA or 0-10V analog transmitter output, and other serial communication options. The Modbus protocol is user selectable along with the simpler Custom ASCII protocol.

Pricing is $290 for the base load cell meter and $410 with Ethernet I/O is. For product specifications and options, visit www.laurels.com/loadcell.htm

For more information, contact Harald Weiss, Director of Marketing, at 714-434-6131, email sales@laurels.com.

Founded in 1990, Laurel Electronics, Inc. is a leading U.S. manufacturer of programmable industrial digital panel meters, counters, timers, and DIN rail transmitters.

Company Information:
Name: Laurel Electronics, Inc.
Address: 3183-G Airway Ave.
City: Costa Mesa
State: CA
Zip: 92626
Country: USA
Phone: 866-709-7713 (toll free)
Fax: 714-434-3766 4
Web: http://www.laurels.com
Email: sales@laurels.com