Product News: Test & Measuring Instruments, Sensors, Monitors & Transducers, Green & Clean
Lighting Control Sensors help building operators conserve energy.
Press Release Summary: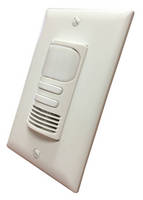 July 9, 2014 - Intended for interior applications, LightHAWK2™ wall switch vacancy and occupancy sensors are available with Passive Infrared (PIR), Ultrasonic (US), and Dual Technology (US and PIR) motion sensor technologies. Other versions include LightHAWK2™ Dimming PIR Sensors, featuring 0–10 V dimming; LightHAWK2™ Night Light PIR Sensor, which combines PIR technology with night-light; and LightHAWK2™ Low Voltage Sensor, which works with power pack or as part of lighting control system.
Original Press Release
Hubbell Building Automation Unveils New Family of Energy-Saving LightHAWK2(TM) Lighting Control Sensors
Press release date: July 8, 2014
Greenville, SC – Hubbell Lighting, a world leader in lighting innovation, announced today that Hubbell Building Automation (HBA) has enhanced its popular wall switch vacancy and occupancy sensor family with the introduction of the LightHAWK2™. From conference rooms, offices, and hallways to storage areas, restrooms, and hotel guest rooms, the LightHAWK2™ sensors provide building operators superior control and energy-savings.

Nowadays, ever-evolving energy code requirements and the increasing demand for energy-saving products have made lighting control sensors a must-have for building owners and managers. Building on HBA's history of innovation, the new LightHAWK2™ family of wall switch vacancy and occupancy sensors offer a variety of options and features that fulfill the demands of even the most discerning user.

Different lighting applications require different sensor technologies that deliver the best sensor coverage and performance. Fully understanding this, HBA has made the LightHAWK2™ available with the most reliable indoor motion sensor technologies available today including: Passive Infrared (PIR), Ultrasonic (US), and Dual Technology.

The enhanced LightHAWK2™ family includes six different options including the most versatile and widely used version, the LightHAWK2™ Dual Technology Sensor. Featuring HBA's patented IntelliDAPT® technology, the Dual Technology Sensor combines US and PIR technologies for unequaled motion detection.

Three new options in the family include the LightHAWK2™ Dimming PIR Sensors featuring 0-10V dimming; the LightHAWK2™ Night Light PIR Sensor combining PIR technology with the added safety and comfort of a night-light; and the LightHAWK2™ Low Voltage Sensor designed to work with a power pack or as part of a lighting control system.

All LightHAWK2™ models include a built-in photocell that when activated during commissioning, allows the lights to remain off when there is sufficient natural light. This feature provides even greater energy savings.

Additionally, LightHAWK2™ wall switch sensors are built to last and feature HBA's RhinoTuff™ vandal-resistant lens and a wrap-around galvanized steel-mounting strap.

For additional information on the Hubbell Building Automation LightHAWK2™, please visit www.hubbell-automation.com.

About Hubbell Lighting
Hubbell Lighting is one of the largest lighting fixture manufacturers in North America. The company provides a full range of indoor and outdoor lighting products serving the commercial, industrial, institutional, and residential markets. Hubbell Lighting brands include Alera Lighting, Architectural Area Lighting, Beacon Products, Columbia Lighting, Compass Products, Devine Lighting, Dual-Lite, HomeStyle Lighting, Hubbell Building Automation, Hubbell Industrial Lighting, Hubbell Outdoor Lighting, Kim Lighting, Kurt Versen, Prescolite, Progress Lighting, Security Lighting, Spaulding Lighting, Sportsliter Solutions, Sterner Lighting Systems, Thomasville Lighting, and Whiteway. Hubbell Lighting: one name, distinctive brands, limitless lighting possibilities. For additional information, please visit www.hubbelllighting.com and follow Hubbell Lighting on LinkedIn, Twitter and Facebook.

Hubbell Lighting Media Contact:
Andy Beck
Makovsky
abeck@makovsky.com
202-587-5634