Length Measuring System determines undeformed size of parts.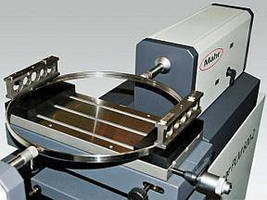 Length Measuring System determines undeformed size of parts.
May 3, 2012 - Suited for measuring thin-walled work pieces, Precimar PLM 600-2 offers fully automated deformation correction function as part of application tool set in system's controller. Procedure automatically modifies measuring force in specified sequence while recording corresponding change in part's measured size. This lets system determine actual elastic properties of part, which are then used to calculate given length in unloaded, measured force-free state of part.

(Archive News Story - Products mentioned in this Archive News Story may or may not be available from the manufacturer.)
Original Press release

Mahr Federal Inc.
1144 Eddy St.
Providence, RI, 02905
USA



Mahr High-Precision Length Measurement System Determines Undeformed Size on Thin-Walled Parts


-- Software in the Precimar PLM 600-2 can downscale measuring force to accurately project 0-force measurement

PROVIDENCE, RI - In the world of high-precision metrology, all parts are elastic, which means they will deform to some extent under applied force, even if only by a few millionths of an inch. But certain parts, like thin-walled bearing rings, deform much more readily than others, to the point where it is extremely difficult for quality control technicians to obtain accurate measurements of their undeformed size. In other applications, such as precision balls and spheres, standards call for reporting size in an undeformed state, which frequently calls for a theoretical calculation.

Now Mahr provides the capability to measure such parts in their undeformed state as a standard feature on their Precimar PLM 600-2 high precision length measuring systems. This capability is especially important for measuring thin-walled work pieces, such as the rolling bearing ring pictured. If a technician checks the inner or outer diameter of a bearing on a length measuring machine during quality control, the bearing can be deformed even at low applied forces, thus distorting the measurement results.

Traditionally, deformation correction was achieved by spreading the measurements out over multiple diameters, or by the use of air gaging on small parts. Parts have also been clamped down and probed using CMMs, but this adds forces in other directions and can complicate deformation correction even further. More recently, optical systems have been developed which provide a non-contact means of making these measurements, but the systems are expensive to purchase and, to date, have not achieved the same resolutions as more traditional precision length measurement machines.

The Mahr deformation correction function is fully automated and available as part of the standard application tools set in the Precimar PLM 600-2 system's controller. The procedure automatically modifies the measuring force in a specified sequence, while reliably recording the corresponding change in the part's measured size. This allows the system to determine the actual elastic properties of the part, which are used, in turn, to calculate the given length in the unloaded, measured force-free state of the part. The measuring machine initially generates a measuring force of 1.2 N, then, invisible to the user, automatically reduces the measuring force in steps of 0.02 N from 1.2 N to 0.8 N, and determines the corresponding measured values.

The principal advantage of this procedure over other static measurements is that the calculated length value is based on a number of individually measured values and therefore yields an uncertainty level lower than any respective single measured value.

The Precimar PLM 600-2 is designed to test a wide range of equipment and suitable work pieces quickly and easily, and with the smallest possible uncertainty. Under ideal conditions in a metrology laboratory at 20° C, a measurement uncertainty of MPEE1 (0.085 + L/1500) µm can be achieved (L in mm). This highly accurate measuring system has a 5-axis, finely adjustable, universal object table; a modern PC-based machine control for several axes; and includes a PC workstation with basic 828 WIN "Free Measuring" software.

Mahr Federal Inc., a member of the Mahr Group, has been providing dimensional measurement solutions to fit customer application needs for over 150 years. The company manufactures and markets a wide variety of dimensional metrology equipment, from simple and easy-to-use handheld gages to technically advanced measurement systems for form, contour, surface finish and length. Mahr Federal is also well known as a producer of custom-designed gages and a provider of calibration and contract measurement services. Mahr Federal's calibration laboratories are accredited to ISO/IEC 17025:2005 NVLAP Lab Code 200605-0 (see our Scope of Accreditation for accredited calibration processes). For more information visit http://www.mahr.com


---


Start Your

Free


Subscription to


Industry Market Trends

.