Product News: Material Handling & Storage, Fasteners & Hardware
Ladder Handle promotes safe and comfortable carrying.
Press Release Summary: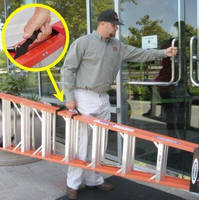 December 7, 2009 - Used to avoid harm and safety issues of ladder handling, Strap-n-Go handle is designed to facilitate safe and ergonomic ladder lifting and transport. Design evenly distributes weight of any ladder while maintaining balance, comfort, and control. This helps eliminate injuries as well as decrease stress, strain, and fatigue caused by carrying ladder via traditional high- or low-shoulder methods.
Original Press Release
The Safest and Most Comfortable Way to Carry a Ladder!
Press release date: November 17, 2009
Ladders are relatively uncomplicated devices, but they can be harmful and unsafe when carried incorrectly. They tend to swing, rise and/or fall in a variety of directions making them cumbersome and difficult to control. If uncontrolled, this movement can cause serious back, neck and shoulder injuries to the person carrying the ladder. It can also be dangerous to other people or property in the field of movement surrounding the ladder.
High-Shoulder Method Statistics reveal that over 225,000 accidents occur each year that are directly related to the mishandling of ladders. Over half of these accidents required emergency room visits. These statistics compiled from Consumer Affairs are staggering and cost employers millions of dollars.
Low-Shoulder Method There used to be only three ways to carry a ladder: 1) high-shoulder, 2) low-shoulder or 3) arms-length method.
The high-shoulder method places the entire weight of the ladder and rail above the shoulder as your raised arm struggles to balance the weight of the ladder against your collarbone causing pressure on your neck.
The low-shoulder method places the ladder below the shoulder with the carriers arm extending through the rails to support the weight of the ladder. This can cause shoulder, neck and collarbone strains as well as back injuries when the carrier tries to compensate to keep the ladder steady and in control.
The arm-length method enables the carrier to hold the ladder by grasping the thin metal side rail with their fingers. This method can to cause wrist strains to carriers because of the lack of a consistent strong grip on the ladder. It can also cause neck, back and shoulder strains due to the instability of a ladder.
Arms-Length Method Using the Strap-n-Go Ladder Handle Now there is finally a safe ergonomic solution for carrying ladders! Strap-n-Go is a unique ladder handle that was specifically designed to facilitate a safe and ergonomic solution for lifting and transporting ladders. The Strap-n-Go Ladder Handle is designed to evenly distribute the weight of any ladder while maintaining balance, comfort and control. This inexpensive solution can eliminate injuries and decrease stress, strain and fatigue caused by carrying a ladder.
Strap-n-Go - A division of IQpod, LLC - LadderHandle.com