Product News: Optics & Photonics
LED Magnifiers feature optical quality aspheric lenses.
Press Release Summary: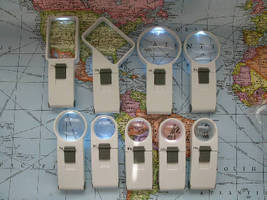 April 2, 2014 - Available in both hand and stand models, Task-Vision LED Magnifiers are suited for visually impaired users, such as those with macular degeneration, dyslexia, diabetes, glaucoma, cataracts, and other eye diseases. Units have bright, low-heat bulb that is flicker-free and lasts for 10,000 hours. Ranging from 6D-50D and powered by AAA batteries, magnifiers offer even illumination and large raised On/Off switch.
Original Press Release
Task-Vision LED Magnifiers are Optical Quality Aspheric Lenses, Magnification Devices for Low Vision
Press release date: March 25, 2014
Tech Optics International: Task-Vision LED magnifiers are optical quality aspheric lenses, magnification devices for low vision, the visually impaired, those with macular degeneration, dyslexia, diabetes, glaucoma, cataracts, other diseases of the eye, as well as back and neck pain, osteoporosis, arthritis or RA, and a number of neurological disorders.

The LED Hand and Stand magnifiers have a bright low heat bulb that is flicker free. The bulb will not need replacing for 10,000 hours and the batteries "AAA" that will last 10 times longer. Even illumination and a large raised on/off switch is easier to use, especially for seniors and arthritic fingers. Available in 6D, 8D, 12D, 20D, 23D, 28D, 36D, 38D, 44D and 50D.

Task-Vision LED magnifiers are used by Optometrists, ophthalmologists, low vision state agencies, VA hospitals, vision stores, nursing homes, schools, as well as photographers, printers, engineers and law enforcement, among others, use Task-Vision products. For wholesale Professional pricing and information: Call 856 795 8585 1-800 678-4277 or https://www.techopticsinternational.com

Lisa Wassmer
Tech Optics International
Director of Sales
600 Deer Road
Cherry Hill, NJ 08034
800 OPTICS-7
856 795 8585
Fax 856 427 7940
Catalog Download:  http://www.techopticsinternational.com
lisa@techopticsinternational.com

Task-Vision is an exclusive trademark of Tech-Optics International